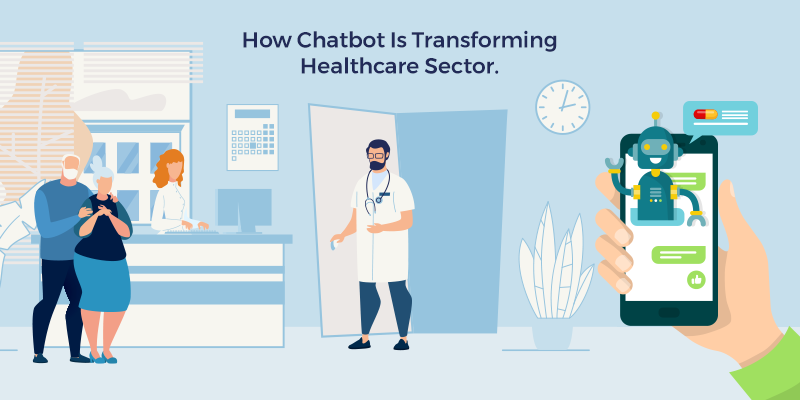 How Chatbot is transforming Healthcare Sector
Technology is a key player in the growth of every industry and from the last few years, the Healthcare industry has experienced a robust growth due to consistent growth in health issues. The adoption of Artificial Intelligence in healthcare is on the rise to make the processes easier and is keep on growing and AI-based chatbots adoption rate is very high in this sector. However, chatbots are not designed to diagnose a person, but it is changing the way the doctors and patients are communicating with each other and uppermost gains the trust of patients.
Several queries are simple in nature, yet patients wish to consult for the same with a doctor for their satisfaction. According to a report by WHO, in India there is a shortage of 6 million doctors and thus it is very difficult for doctors to address every patient's simple medical query also sometimes for a patient, it is difficult to reach out to the clinic for such simple queries especially for the patients living in remote areas with limited healthcare facilities, here chatbots plays a vital role in simplifying patient headache and doctor's workload. Following are a few ways the healthcare industry is utilizing the chatbot-
1. Provide Instant Answer to Urgent queries
During Health issue emergency can happen anytime which requires an instant and correct diagnosis. A physician can suggest the appropriate remedy only when he able to get necessary patient information thus chatbots are being implemented across communication modes to communicate with the patient directly and collect the necessary information such as prescribed medicines, check-up, reports this, in turn, reduce the time of physician in searching the patient's record.
2. Boost Medical claim process
On daily basis medical insurance agencies receives thousands of inquiries and claim settlement requests and the biggest challenge is to detect the frauds in claim settlement process and such frauds can be easily bypassed when a single human is handing numerous inquiries at the same time, but a smart chatbot review the claim, verify the policy details and pass it through fraud detection algorithm before sending instructions to bank for claim settlement and a single bot can handle multiple claims at a time without any error.
3. Patient Support
A patient often needs post-discharge care also and chatbot here acts as a virtual nurse to remind about medicines especially in case of elderly patients, take the necessary input about the current health stage. Integrated with various data sources, bot provide users a personalized medical content for self-learning.
4. Appointment Scheduling
Chatbots on hospital websites enable the patient to book the appointment with the doctor of his choice or appointment with the right doctor as per the patient's problem. It also reminds patients about the pre-appointment and post-appointment actions this, in turn, enables the doctor to know about the patient before an appointment. Also, whenever the hospital is conducting any health check-up camp, patients can be notified of the chat.
Conclusion : The Healthcare industry is adopting the chatbot to grow their business and ensure a smooth customer/ patient support and reduces the number of repetitive support calls that their staff need to attend. According to a report, the global healthcare Chatbot market is expected to reach USD 470 million by 2025 which was USD 123 million in 2018.
IConflux is one of the leading chatbot development company in India. We at IConflux is a pioneer in developing chatbots for healthcare domain as well as other business vertices as per your requirement. To know more feel free to contact us at info@iconflux.com
Tagged in