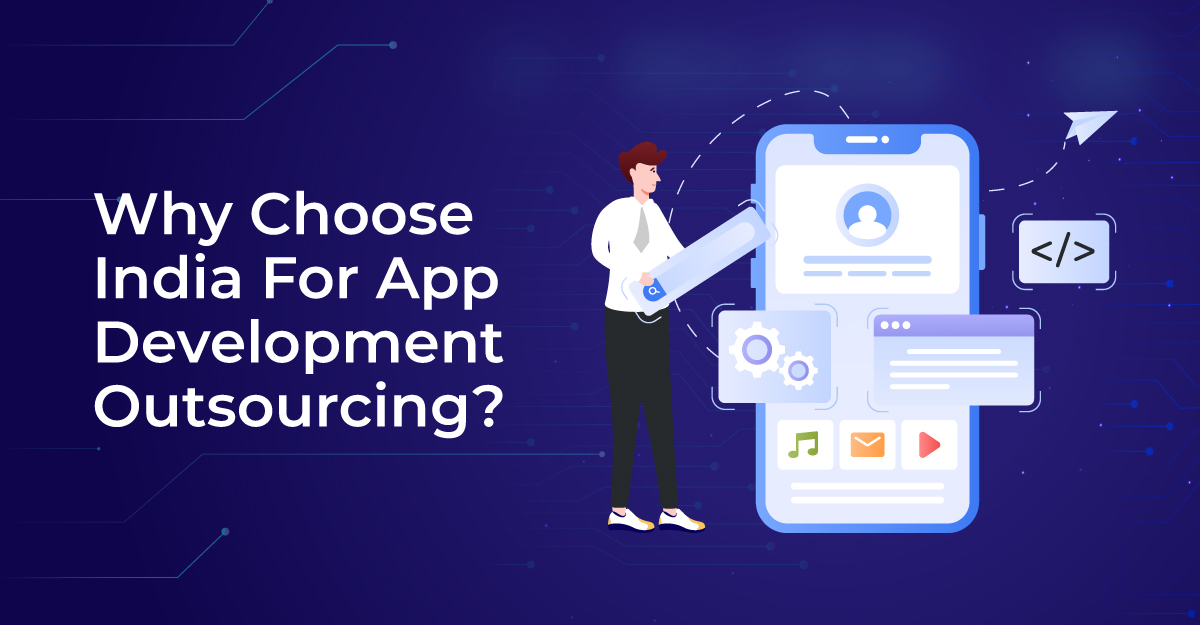 Companies are realizing the benefits of outsourcing, and India has emerged as the top supplier of software solutions globally. The demand for an internal team can be fulfilled by outsourcing while increasing capital expenditures and lowering costs. This enables businesses to concentrate on their primary competencies. The term "offshore software development," often referred to as "outsourcing to a team of specialists in another location," is becoming well-known among companies expanding internationally. Incomparable advantages may be had from working with reputable offshore software development businesses, including effective project execution, access to top-tier multi-skill developers, quicker turnaround times, shared responsibility, and the use of the newest technologies at much cheaper rates.
What Is Mobile App Development?
Mobile application development is the software creation for smartphones, tablets, and digital assistants, primarily for the iOS and Android operating systems. It can be accessed by a mobile web browser, downloaded from a mobile app store, or preinstalled. Java, Swift, C#, and HTML5 are the programming languages used to create mobile applications. Companies from all sectors must meet users' demands for quick access to information and transactions. The most common way for individuals and organizations to access the internet is through mobile devices and the programs that run on them. Organizations must create mobile applications that cater to their partners and employees' needs to remain relevant, responsive, and successful. Despite the difficulties, adhering to fundamental principles and best practices helps accelerate application development.
Choosing A Platform
Independent app development firms often create apps for Android due to its compatibility with 70% of smartphones and Google Play Store's fewer limitations. iOS applications, on the other hand, have fewer devices to support, simplify optimization, and often have higher user retention.
Depending on the intended use case and target market for the mobile application you are developing, you may have different concerns. For instance, if you're creating an app for your company's employees, you'll need to support the operating systems they use, which may require creating cross-platform apps that function on Android and iOS. A primary focus should be given to creating iOS applications if you're creating a mobile application for your consumers and you know the bulk of them use iPhones. Your mobile application's monetization plans and anticipated user behavior to which geographical and cultural factors may influence. These additional factors should be taken into account while building it. Integrating the device management tool and development platform will increase productivity and tighten security.
Independent app development firms often create apps for Android due to its compatibility with 70% of smartphones and
Why Should You Consider Mobile Development Outsourcing?
Outsourcing mobile development, which involves giving external companies responsibility for developing, creating, and maintaining mobile applications, has grown in popularity with companies. For businesses trying to maximize resources, save time, and eventually increase their reach, choosing to outsource to a mobile app development company in India can provide a number of benefits. Consider outsourcing mobile development for your company for the reasons listed below.
Quality assurance and testing

A professional mobile app outsourcing company often has a specialized staff that assures quality assurance and thorough testing during the app development process. They are equipped with the know-how and resources to conduct exhaustive testing across various platforms, devices, and usage scenarios, spotting any problems early on and fixing them to provide a more polished final product.

Ongoing support and maintenance

Long-term support and maintenance are an extra benefit of outsourcing the creation of your mobile app. The input from users, shifting market conditions, new technology, and security standards can all be taken into account when you update and improve your app with the assistance of knowledgeable outsourcing partners.

Increasing efficiency

When having an app created, you want the best bargain you can get. Your project's costs for office space, equipment, and software can be decreased by outsourcing it to foreign developers. As a result, employee perks, bonuses, and unfinished work are less expensive. Outsourcing can help you save money in the long term because you only pay for finished tasks. When choosing to outsource your app's creation to businesses that provide the best results at reasonable costs, cost-effectiveness is a crucial consideration. This technique improves productivity and efficiency without adding additional full-time employees, which results in improved results.

Optimizing time

Outsourcing enables quicker project completion due to the immediate availability of professionals, the streamlined app development procedure, and the decreased lead time for apps to emerge in the Apple App Store or Google Play Store. This logical approach, which ensures a rapid process without unnecessary pauses, addresses the challenges of developing mobile apps. Additionally, outsourcing companies offer shortened turnaround times (TAT) because of the efficient and productive outsourced developers' motivation to work quickly and complete projects quickly. Because the project pays them, these developers have a strong incentive to work diligently and effectively accomplish responsibilities.

Flexibility

Businesses regularly deal with issues like a requirement for developers or a large workforce as a result of economic shifts. Small businesses are aware of how crucial scheduling and personnel flexibility is. Outsourcing enhances the capacity to adjust developers' schedules and resources in accordance with project requirements. To meet the needs of the economy, flexible engagement methods should be taken into consideration. Businesses can weather difficult economic times by outsourcing and employing developers to handle their continuous or infrequent application development needs.

Latest technologies

You can outsource your job without the requirement for specialized software or experts by using the most recent tools and technologies. Due to their professionals' extensive program knowledge, these companies can help you save time and money in the competitive business world. You can avoid spending money on new equipment and personnel training by outsourcing. Working with an outsourcing company has many benefits, including fast project completion, high-quality work, and the best solution to your needs.

Minimizing risk

Outsourcing is the preferred risk management strategy for a mobile application development company. Working with a third party allows you to take control of the project and eliminate potential issues. With this approach, you may anticipate problems more accurately and respond to them more expertly. Hiring several engineers via outsourcing enables you to spread out risk and manage risks more efficiently than engaging a full-time employee at a higher cost. By contracting out your app development project, you may successfully manage risks and divide tasks with a dependable person or company.

Skilled workers

Are you trying to find a capable app developer? The solution is to use external app developers. These experts offer knowledge, scalability, and the newest techniques to help you complete your project on time and to a high standard. By outsourcing, you may put together a team of the best experts in the industry and take advantage of their in-depth industry expertise. You can create amazing programs that make your competitors struggle by harnessing their skills and creativity.

Access to new markets and international cooperation

Outsourcing mobile development and international cooperation go hand in hand. You can collaborate with groups based worldwide, giving you access to distinctive viewpoints and prospective chances to break into new markets. Protection of intellectual property.
Steps To Follow While Outsourcing Effectively
Step 1: Define your project
Outline your app's goals, target market, and important features to start. Your mobile app outsourcing firm will better comprehend your vision and expectations with the help of this information. Think about the following elements:
Determine the main goals of your app and the issues it hopes to address for your consumers.
To ensure the app suits their needs, carefully consider the preferences of your target consumers and demographics.
Choose whether to build native or cross-platform apps and whether to design the app for Android, iOS, or both.
Make a prioritized list of the features you wish to include in your app, mandatory and optional.
Determine the project budget based on your needs, scope, and resource availability.
Step 2: Identify potential outsourcing partners
Do some research and make a short list of outsourcing options for a mobile app development company that meet your needs and budget. Think about the following standards:
Look for businesses with a track record of creating apps similar to yours or knowledgeable about the technologies you need.
Examine their prior work to judge the caliber of their output and breadth of experience.
To evaluate a company's reputation and ability to deliver on its claims, read client testimonials, reviews, and case studies.
Consider their physical location to ensure that time zone and cultural variations won't obstruct communication and collaboration.
Step 3: Select a development partner
You may focus your search by comparing the applicants who made the shortlist to the factors you think are most crucial. Think about the following:
Make sure the organization has the technical expertise and abilities to create your app according to your requirements.
Examine their communication methods to ensure that they communicate with customers honestly and helpfully.
To ensure your project is executed successfully, evaluate their management practices.
Verify that their pricing structure (set fee or time-and-materials) is within your spending limits and preferences.
Make sure the company developing the outsourced mobile app offers continuous assistance for upkeep, bug fixes, upgrades, and new features.
Start conversations with the finalists, then pick the one most closely matches your needs, demands, and budget.
Step 4: Collaboration and communication framework
Establish effective communication channels with your outsourcing partner for mobile development to achieve successful collaboration. Think about the following:
Select appropriate communication options like email, chat, video calls, or platforms for project management like Trello or Asana.
To simplify communication, designate a specific project manager or a contact person on each side.
Set up regular meetings (daily or monthly) to assess progress, review problems, and ensure everyone is on the same page.
To sustain good communication, address any language barriers and time zone disparities.
Step 5: Monitoring
By actively participating in discussions, offering input, and resolving any issues that may come up, you may stay involved in the development process. Think about the following:
To stay up to date on the project's status, ask your mobile app outsourcing provider for progress reports on a frequent basis.
Ensure the outsourcing team follows all established timelines and milestones and addresses any deviations immediately.
Be ready for potential adjustments to the project's scope or priority, and collaborate with your outsourcing partner to make any necessary adjustments.
You can ensure quality control by including your internal team in the testing process and giving the outsourced partner input.
Step 6: Post-launch support
Plan for post-launch support as the app development process draws close to ensure optimal performance, user pleasure, and the app's long-term success. Think about the following:
Verify that your iOS or Android app development outsourcing partner is dedicated to offering ongoing support for app maintenance, updates, and enhancements.
After the app launch, notify your outsourcing partner of any problems or bugs for a quick resolution.
To pinpoint areas for improvement and work with your outsourcing partner on optimization efforts, monitor user feedback, and app performance metrics.
With your outsourcing partner, create a future roadmap for your app, adding new features or improving existing ones to keep it current with user preferences and market trends.
Due to competitive mobile development prices, startups, and small and medium-sized businesses favor Indian application developers. They have a variety of pricing alternatives, with North American developers asking $50-250 per hour and Indian firms charging $10-$80. Simple software can cost between $5,000 and $8,000 to design in India, whereas complicated apps might cost more than $20,000. Constant updates, user issues, and managing reviews are all factors that contribute to increased development expenses.
Why Should You Choose India?
80% of US and European businesses select India as their preferred outsourcing destination, and it is quickly becoming a hub for the production of mobile apps. Nearly half of the Fortune 500 corporations, according to research by the National Association of Software and Services Corporations (NASSCOM), have chosen to outsource software development to Indian outsourcing firms. The rising demand for mobile app development, which may aid companies in growing their customer base, revenue, brand awareness, sales, and popularity, is fueling this trend. There will likely be an increase in the estimated 6 billion smartphone subscriptions between 2016 and 2021. In order to address this need for mobile app development outsourcing, India has been at the forefront, providing top-tier people, experience, and skills to develop powerful applications.
Regardless of whether they are growth-stage startups, small and medium-sized firms, or major multinationals, businesses in India have been able to reach new heights because of the country's competitive pricing system. India is a fantastic choice if you are considering outsourcing your business needs to a reputable mobile app development company. In addition to cost savings, outsourcing your app idea to a partner results in high-quality software that can be released sooner. With a starting hourly rate of $20, India is a top outsourcing service provider for the creation of mobile apps. Businesses can access a wide pool of experienced mobile app developers in India through outsourcing, enabling them to maximize the functionality of their applications.
Benefits Of Outsourcing To India
Team of experts

Indian mobile app development companies promise the quickest turnaround time for your product, giving businesses an unrivaled speed advantage. India provides other nations with qualified and experienced mobile app developers with unmatched competitiveness. High ownership, accountability, and dependence on cutting-edge technologies improve corporate quality and accelerate construction schedules. Offshore project managers and team leaders use agile approaches to guarantee the quick, high-quality delivery of software.

Cost-effective

India is a favorite destination for developing mobile apps because of its inexpensive cost. Because recruiting costs are lower in India than in Western nations, outsourcing the development of Flutter apps to India can reduce internal development costs. Flutter app development firms or AngularJS app development company in India may create a mobile app for three times the price of a US firm, allowing business owners to use the extra money for growth, upgrades, and marketing. Their extensive technological knowledge and adaptable work schedules enable them to purchase the latest advancements at lower prices.

No communication barrier

Businesses that engage mobile developers in India might benefit from being more efficient and focused by outsourcing their work to Indian app development businesses. Projects can be finished considerably more quickly when a dedicated software development team is available to work around your time zone. Because India is the world's second-largest English-speaking country, businesses have an edge in monitoring, directing, and communicating project outcomes. Hiring Indian software developers allows you to provide personalized, round-the-clock customer service.

Government policies are in favor

With a trained workforce and motivated developers, India provides affordable mobile app development, making establishing offices easier for international businesses. Indian software outsourcing companies handle the paperwork and regulatory requirements while offering migration incentives. The Indian government gives 100% foreign equity and promotes IT infrastructure development in key cities, making it the country's most heavily invested domain. This has improved India's image as an outsourcing location among foreign companies.

Ensured Security

The Mobile development firm in India is well-established and prospering thanks to a dedicated software development crew. When outsourcing or using offshore apps, businesses frequently express concern about dealing with foreign nations; the key concerns are typically legal exposure and client data protection. Because of India's stringent IT security laws, there is no need to be concerned about such risks when obtaining a React Native app development company in India.

Better technology and tools

Companies need help keeping up with the latest technologies in the quickly evolving mobile app development sector. Outsourcing to an Indian mobile app development business provides free access to cutting-edge technologies, software, and development tools. Indian app developers are well-known for their knowledge of cutting-edge technologies such as IoT, big data, AI, machine learning, and blockchain. They are industry leaders and provide low-cost apps, making them a great resource for organizations looking to implement cutting-edge technology.

No compromise in quality

Outsourcing Flutter, Nodejs, angular projects may be risky due to the need for professional, effective, and informed developers. If you want to ensure the success of your project, consider hiring the best Node.js development company in India. Because they are aware of technological improvements and agile approaches, Indian developers, whether React or Flutter developers, can deliver top-notch digital items for your firm. You might select an Indian Flutter app development company in India to obtain a high-quality digital product and make a sound business decision.

A better comprehension of various platforms

The primary goal of the app being designed should be to give the best user experience possible. Mobile app developers in India are knowledgeable and experienced in creating smooth mobile apps for many platforms, such as Android, iOS, Windows, and so on. Projects for various mobile platforms often span two months or more depending on complexity, and with Indian developers continually updating their skills while working on many platforms, you can trust them to do more than a competitive job on your project.

Numerous options for outsourcing

Many organizations in India have sprung up to meet the growing demand for mobile app development. This gives foreign organizations a plethora of possibilities for outsourcing their mobile app development needs to India, giving them the freedom to select a partner depending on the complexity of the job necessary and the pricing that best suits them.
Key Factors For Mobile App Development Cost In India
Variable factors mostly determine the cost of app development. You must consider these many aspects before generating a proper and clean project budget estimate. Going over these variable aspects in detail is always advised if you seek full advice on app development expenses in India. The primary cost variables for app development are explained here.
Type of app

A hybrid app is the best solution if you want to create a single app that operates on all mobile platforms as well as the web. While hybrid apps significantly reduce development costs, user experience must be sacrificed. Building native apps for iOS and Android separately is more expensive. However, the app user experience will be greatly improved thanks to the platform-specific approach of native development. Between hybrid and native development, there is now a third option known as cross-platform development. React Native, and Flutter app let you reuse over 80% of code for Android and iOS. For the rest, you can use platform-specific UI development to provide a more native look.

Offline access

Apps are increasingly integrating offline usability in order to compete with traditional internet-dependent apps. Cloud computing and advanced localized caching enable app users to access some features and app contents even when no internet connection is available. Any modifications made while disconnected will be reflected as soon as the connection is restored. This may incur some additional expenses.

App features

Finally, the functionalities absorb all of the app development hours. While the quantity of features determines the development cost, even a few difficult and advanced features might spend a significant amount of money. Feature development takes center stage in a step-by-step guide to developing an app. Though the features indicate what your app aims to offer customers, you may always start with the essential functions and gradually add other features based on user input. This can help you save money on your initial development costs.

Number of the app screen

If you are constructing a huge app with too many screens, this increases the mobile app development cost of your app. You can keep costs down by having fewer number screens. Only construct screens essential to the app's operation for the initial roll-out. Others can be added later via subsequent upgrades.

App Architecture

In-app projects might be costly, including any data and crucial data security measures, complex backend, and app architecture building. Creating a custom backend can be costly but can provide greater control over backend operation and security. If your security issues are manageable, you can choose less expensive backend as a Service (BaaS) options that provide ready-made architecture.

Third-party APIs

Most apps nowadays rely on third-party APIs for various value-added features. Third-party APIs can be used for a variety of functionalities, including social login, payment gateways, chatbots, and AI algorithms. Many of these third-party APIs increase the cost of development.

UI design and animation

Finally, the UI design, graphics, animation, and interactive aspects are expensive. The more advanced motions, interactive features, complicated UI elements, and images you utilize, the greater the project's development cost. Depending on the intricacy, UI design can take 100 to 500 hours of the design and development team's effort.
Additional Tips To Consider
Define the scope of the project and the deliverables

Properly documented project scope and deliverables assist both parties in understanding project needs and establishing appropriate expectations. When selecting to outsource to a mobile application development company, be explicit about the timeline, features, app functioning, technical requirements, and overall objectives.

Sign an NDA (Non-Disclosure Agreement)

Signing an NDA with your outsourcing partner will protect your idea, product concepts, and sensitive information. This legal document protects your property rights and confidential data when outsourcing mobile development.

Execute a pilot project

Consider conducting a short test project before committing to long-term cooperation. This will allow you to assess the mobile app outsourcing provider's capabilities, responsiveness, and effectiveness before totally outsourcing the entire project.

Set up a thorough screening procedure

Devote time to investigating potential outsourcing partners, seeking recommendations from colleagues or industry peers, and gathering client reviews and comments. A rigorous verification process will yield a more dependable and skilled outsourcing partner for mobile app development.

Check for cultural compatibility

Check if your Android or iOS app development outsourcing partner respects and understands your company's culture and values. Cultural compatibility contributes to a more productive and amicable working relationship, which increases the likelihood of project success.

Create a solid communication strategy

While engaging in the mobile development outsourcing process, ensure that communication with your outsourcing partner is consistent, prompt, and transparent. Adopting appropriate communication tools and creating meeting schedules might be beneficial.

Continuously assess and adjust

In outsourcing to react native app development company in India, evaluate the project's progress and the performance of your outsourcing partner on a regular basis. As a result, you can swiftly make any necessary changes or revisions to your requirements or project management strategies. Optimize your mobile development outsourcing process, create a fluid collaboration with your mobile app development partner, and increase the likelihood of success of your project by following these additional guidelines.

Establish success metrics

When considering how to outsource app development effectively, define key performance indicators (KPIs) and measurable criteria for project success. Throughout the project, this will aid in tracking progress, evaluating performance, and enabling data-driven decision-making.

Participate in the process by involving stakeholders

The app development process involves internal stakeholders such as business analysts, the IT department, and end users. When outsourcing mobile app development, involving important stakeholders enables better alignment with business goals, more extensive input, and smoother project execution.

Be responsive and constructive in your remarks

Respond to inquiries, updates, or requests from your mobile development outsourcing partner as soon as possible. Providing timely and constructive feedback is critical to fix any difficulties, maintaining project momentum, and increasing teamwork.
Conclusion
For corporations and startups looking for lower rates, improved software quality, and access to information and expertise, India is quickly becoming a popular software outsourcing location. Mobile app development can alter business operations by providing an interesting and effective means to communicate with clients. Without a huge budget for in-house staff, outsourcing can help firms stay current and compete with market leaders. To succeed, select a reputable outsourcing firm that provides a cost-effective solution and timely delivery of a fully functional application. This makes it simple to outsource under mobile app development cost in India while meeting corporate objectives without hassle.