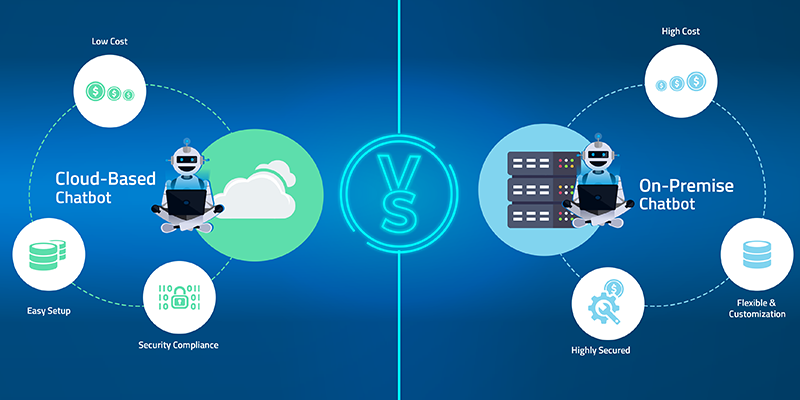 Build the perfect Chatbot for your Enterprise: Cloud-Based Chatbot Vs On-Premise Chatbot
Chatbot:
As its name suggest a bot who can chat like a human to human. As nowadays people prefer to chat instead of talking over the phone. While seeing this trend chatbot comes in existence.
It's always too confusing in chatbot development services to decide whether we have to make a cloud-based chatbot or an on-premise chatbot. Both have their own pros and cons. Depending on the requirement we can use any one of them.
Nowadays, cloud-based chatbots are used more often than on-premise chatbots. Still, there are many reasons why some Enterprises always prefer on-premise chatbot. Each one of them has its own pros and cons. That's why there is no best solution which suits for all. Based on the requirement and while comparing both, one can determine which one is best for them.
1. Control/Security
Cloud-based chatbot: We always have to take care of privacy and security when we are using the cloud-based solution for the chatbot. As cloud vendors are changing their policies frequently, sometimes we have to face some major issues. Many sensitive pieces of information are stored in the cloud as a form of data, we always have to be concerned about the data ownership and the privacy of the data.
Application token access, security keys, customer data, partner data, employee data; must have their privacy ensured. There were chances of data breaching.
On-premise chatbot: Comparatively, in On-premise solution for the chatbot, we have better control over the entire system and the data. Companies having high concerns about their data and privacy, highly prefer on-premise chatbot. Highly regulated domains like Government sectors and Banking sector have major barriers for the cloud solution they have extra privacy concerns and they even can't afford a single breach in the data. There is no fear of confidential data getting leaked by a cloud provider in an on-premise solution.
NOTE:- Chatbot hosted on-premises aren't completely secured, but yet companies can at least decide whom to allow access and whom to restrict.
2. Customization
Cloud-based chatbot: Cloud-based solutions make a chatbot development process easy and also hassle-free integration with multiple channels. But, it is not flexible for customization as per the customers need. How much we are using that much we have to pay in cloud-based solutions. It comes with charges per usage.
On-premise chatbot:Comparatively, in an on-premise solution, it allows us to customize the workflow and can integrate with any current working client applications into the workflow as per the requirement. The on-premise solution helps us to have continuous maintenance and support available in the house. Thus, there is less or no dependency on the vendor.
3. Deployment
Cloud-based chatbot: In cloud-based deployment, the resources are deployed in the cloud. There were different forms of cloud computing are available such as public cloud, private cloud, and a hybrid cloud. In all of the same, the resources are hosted on the premises of the service provider and the enterprises can access that resources remotely. They can use those resources at any time from anywhere.
On-premise chatbot: Comparatively, in an On-premise deployment, resources are deployed in-house. Enterprises can manage and maintain the resources in house. They can deploy within enterprises IT infrastructure. The enterprise is solely responsible for maintaining the solution and all its related processes.
4. Cost
Cloud-based chatbot: A cloud-based solution comes up with multiple plans depending on the usage and requirement. Cloud-based is priced under a monthly or annual subscription as per the usage, with additional fees for the support, training, and updates. Depending on the enterprise's consumption the price may vary.
On-premise chatbot: Comparatively, On-premise has the one-time investment cost which includes the server hardware, power consumption, space; others are the recurring fees for support, training, and updates. It requires less operational cost after deployment. One can bring down its total cost of ownership over time.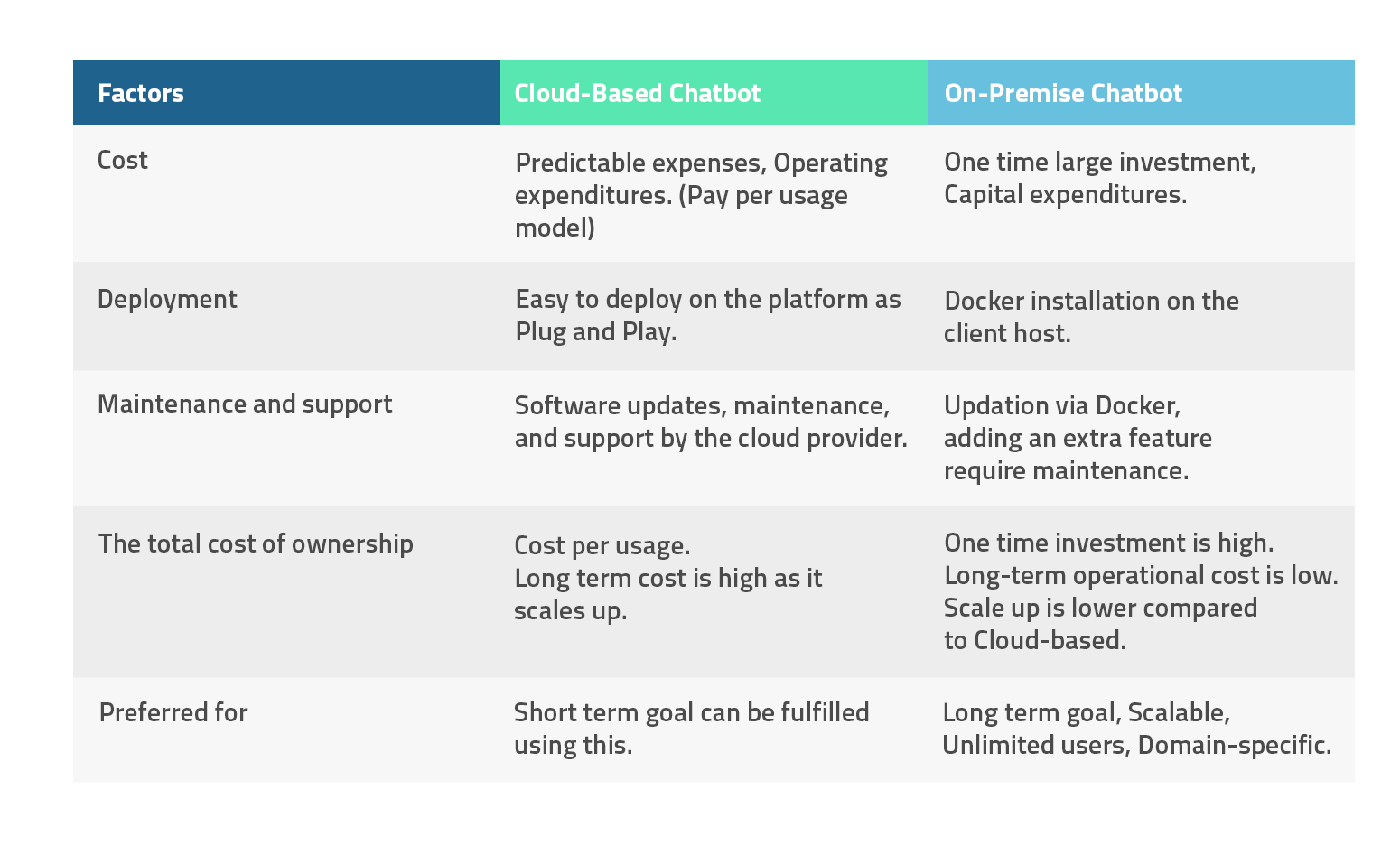 What we conclude from the factors.
The conclusion,
Pros of the cloud-based solutions: We don't have to wait for the installation and no waiting for the deployment. Cloud-based solutions are ready to work from the day we adopt these platforms. Updated software and compatible with the new releases.
Pros of the On-Premise solution: Customization plays an important role in an on-premise solution, you will not have to discard your useful applications tailored to your business instead you can integrate these apps into existing workflows. It comes with a one-time large investment and low operation cost maintained ahead.
If you want to take your Customer Service to next level...then also read our article "7 Reasons, Why Enterprise Needs Chatbot to Provide Better Customer Service".
If in case, you are looking for any chatbot development services then feel free to contact us on +91 - 95127 87877 or send an email to info@iconflux.com.
Tagged in