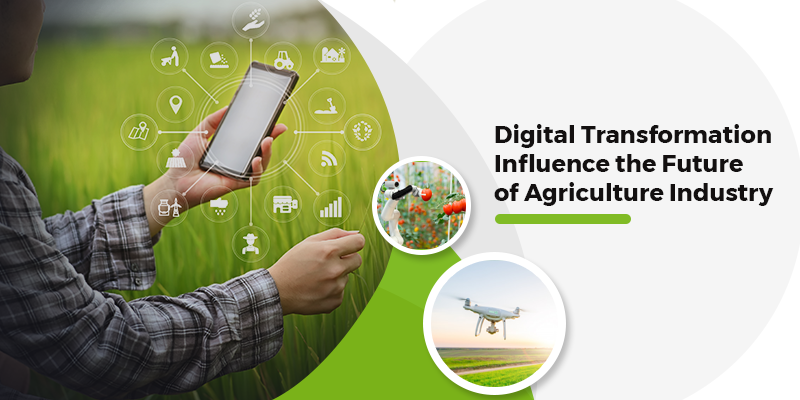 In recent years technology is impacting almost every industry. The agriculture industry has also witnessed lots of AgTech in the last few years. A report says that the agriculture industry invested a whopping $4.6 billion in the technology in 2015 and from then technology and population are growing like anything. Which is going to affect the agriculture industry. Experts predict that to meet the demands in 2030 the agriculture industry has to increase its output by 60% or more.
Considering future demands contributors to the industries - farmers, food producers, has to take the help of emerging technologies and plan for transforming the agriculture industry. Well, so today we will discuss some proven ways which can take agriculture to new heights.
1. IoT Devices and Sensors
IoT devices having extreme potential if used appropriately in the agriculture industry. IoT market estimated $14.4 trillion value stake alone in the industry says Cisco. IoT & sensors help in the collection, inspection and overall distribution of agriculture resources.
Sensors if placed strategically in the farms and fields then it can help to collect useful data like crops current situation, health, identifying disease, and much more. This enables a high level of mobility for food manufacturer that now they can simply schedule when to water their crop, how much amount of water needs to sprinkle depending on the weather condition and when to perform certain farming activities. It will be resulting in higher food production and fewer resources being utilized.
2. Machine Learning Algorithms
Machine learning is the best part of the digital transformation as it has the capability to analyze various data points and providing useful insights. It can help farmers before even planting the seed. Machine learning algorithms can predict which crop is most likely to provide more output by studying land, soil and the weather condition of that location.
Food production companies can also leverage machine learning algorithms to know the trends of the market for their products, sales, demand, and supply. Which helps them to forecast and plan to manufacture and modify their strategies accordingly.
3. Crop Monitoring with Drones
Just imagine if a farmer has an aerial view of their entire farm/field. Yes, this is now possible with smart drones. Drones are widely used in the U.S for many purposes for combat, to deliver a parcel and now for agriculture as well. Camera fitted drones can produce 3D images of the crop and it helps to predict crop health, soil condition, and other diseases.
Nowadays drones are also used to spray chemicals on crops and it doesn't harm the crop and groundwater. Reports showed that drones can increase the chemical spraying speed by five times compared to other machinery.
4. Farming with Robots
From the last decades, we are seeing increases in the use of robots in various industries. Robots coupled with artificial intelligence can do a remarkable job in the agriculture sector. It can increase productivity and result in a high amount of yield in less time. Experts like John Deere has prepared robots which can use for spraying and weeding purpose and it can reduce agrochemical use by a 90%.
Robotics companies are also experimenting with equipment like laser and camera which help robots to identify and remove weeds without any human intervention. Other companies are also developing robots for various agriculture purposes like fruit-picking and nut harvesting.
You have a vision we
have a way to get you there
enquire now
Conclusion
Industry leaders and technology experts are putting their 100% to minimize the efforts required in agriculture and maximizing the output to serve the future generation. Concepts like Farm to Fork and emerging technologies like AI & ML, Data Analytics, Blockchain, IoT Devices, and Application are doing their best to compliment the agriculture industry.
To discuss further technologies and solutions connect with our expert AgriTech experts and take your agriculture business to the next level. We love to hear from you about your views and thoughts about the agriculture situation in your locality, email us on [email protected] to connect with us.