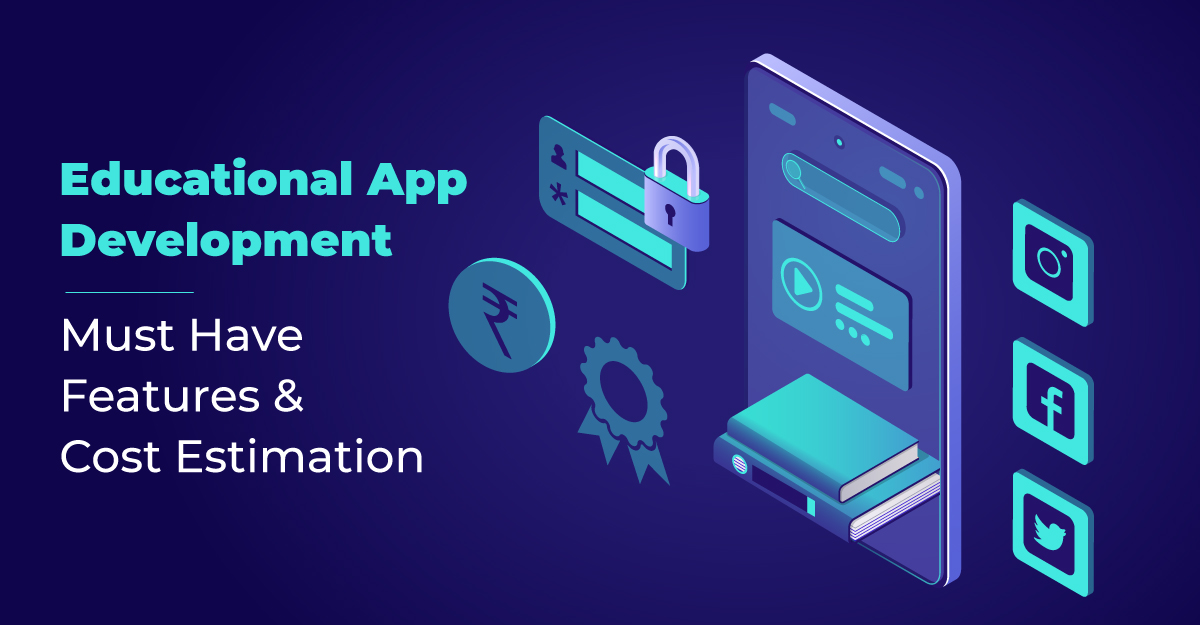 With rapid changes and advancement in technology, online education has become the new normal. Educational apps have changed the way we study; a good app makes studying easier and effective.
Essential insights about educational apps
According to Statistica, educational apps rank third in the Apple store and second on Google Play Store in terms of downloads.
When you're developing an app, the main thing to keep in mind is the target audience. The various factors related to the target audience can be identified as
Demography of potential customers
The platform people are using
Classification of age
Different streams of subjects
You have a vision we
have a way to get you there
Enquire Now
What are the benefits of using an educational app?
Educational apps are so popular and are beneficial over traditional learning methods in so many ways.
The interface of these apps is very easy to use.
All the study material and solutions are uploaded on the apps in one place.
Students can learn things at their own pace.
These apps help students keep track of their progress through tests and quizzes.
Students interact in a better way with their teachers and peers.
How can educational apps be classified?
Educational apps can be classified into the following:
Specific subjects (academic and non-academic)
Professional and certification courses
Foreign languages
Educational games
Competitive exams
What are the basic features of educational apps?
Here are some basic features that every educational app should have to make it effective and useful:
Logging the child's last lesson
Every app should allow users to log the child's last lesson. This way, the learner can continue right from where they stopped.
Previous performance record
Tracking the child's previous performance can help to set new targets and study methods for improvement.
Quality content is crucial for any app. One can use videos, documents, interactive activities, and courses to make any subject interesting.
The lessons should have some interactive content to keep the student engaged at all times. Some quick study tips, highlights, etc can be a creative idea.
Social network integration
Social network integration is very effective to make the app interactive. It lets users share their queries and achievements.
The search button adds to the app's functionality and lets the users search directly for what they want.
A secure payment channel can be added to the app to purchase study material, courses, and certifications.
How to make an educational app?
Making a great app includes planning, hard work, and the following things.
Proper research to find out the target audience, their needs, competitors, and your objective to set realistic goals and plans.
The key to getting and retaining users is to make the content engaging and clear. Videos and different games or quizzes can make the content interesting.
The app's interface should be simple and clear so that users can use it without any difficulty.
Testing with a target group is a brilliant way to know the app's weaknesses and strengths so that you can improve any shortcomings.
Should you hire anyone to make the app?
Developing an app is not an easy task. You need specialists to do it for you. Flutter app developers in India can help to develop the best in the market.
How much does it cost for app development?
The cost of developing an app depends on many factors, such as the features and platform you use. Flutter app developers help you in cost-effective app development as Flutter supports code reusability.
According to Businesswire, the educational app market is ready to see rapid growth in the coming years. Such apps have already been a huge success among teachers and students. To survive in the competitive market, it is important to have the very best team of Flutter app developers to develop your app.