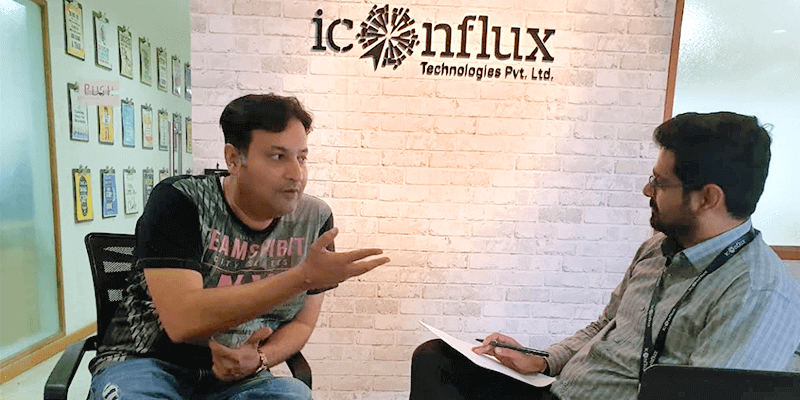 Technology always had a big impact on the insurance sector. Crop insurance too, while is just emerging, can reap great rewards by adopting technologies. In India, Pradhan Mantri Fasal Bima Yojana (PMFBY) is a great initiative by the Government, however to make it successful, large scale implementation of technology is the key. To discuss the challenges and opportunities in implementation of technology in PMFBY, Sanket Thakkar (CEO & Co-Founder, IConflux Technologies Pvt Ltd) invited Mr Deepak Pareek (CEO & Founder, MyCrop Technologies Pvt Ltd) to have a fireside chat. Here are some snippets of the discussions.
Sanket: We have seen a lot of buzz around the Pradhan Mantri Fasal Bima Yojana (PMFBY), What are your views on this initiative?
Deepak: Looking at current agriculture situation in India, risk mitigation is the biggest challenge for the farmers. Unfortunately, time and again we have seen that when the weather is not kind, wrong inputs are selected or spurious inputs are used, their is a natural disaster, or pest infestation on a large scale happens leading to crop failure, in such a scenario there is only one person who suffers, the farmer. PMFBY is the scheme for farmers to secure their crop from the uncertainty. I must say this is a great initiative taken under the leadership of our Honorable Prime Minister Shri Narendra Modi.
Thought behind this scheme is to minimize the risk for farmers from uncontrollable factors like bad weather, pest infestation and natural calamities. This scheme is simple...you identify good insurance companies and provide them mandate to work in specific region. While most of the premium paid is by the Government, a small part is paid by the farmer. Once region is allocated then insurance companies are responsible to take care of complete insurance process.
However, off late there are many factors leading to negative publicity of this scheme and due to these systemic flaws the numbers of farmers enrolling for the scheme has shown a fall. Some farmers also feel that justice is not done to them as their claims were not settled by insurance companies. While the insurance companies are right in taking a decision about claims, because that is based on government guidelines and rules & regulation, still lack of transparent process leads to disenchantment of farmers. There can be various reasons for rejection of claim even when loss has happened, errors in filing the insurance claim forms, errors in collection of information during various stages of insurance process, errors in information coming from the local government or specific scenario not covered under policy guidelines. All this makes the decision making very complex for the insurance companies to approve and disburse the claim for the farmers.
All this can be taken care of if we are able to make this scheme more transparent and efficient by better application of technology. For example, if you recall in MyCrop, IConflux has developed farmer module where we were capturing images of farmers' farms every 10 days. This helped in getting current status of the crop. While MyCrop were using it for the agriculture advisory to the farmers, the same technology can be used for insurance companies as well. It will validate there was a crop, there was a reason for the disruption of crop and now there is no crop. If you connect these 3 dots then you have transparent solution which insurance companies can easily use to find claim is genuine or not.
Sanket: How do you feel that Insurance companies can engage with the farmers in a more robust manner to gain their trust and at the same time reduce their own risk?
Deepak: Insurance companies have to think out of the box. They can improve their engagement with farmers not just by transparently assessing the claims but they also need to create their brand value and trust among the farmers where farmers can see them in a more positive role of a partner.
They need to increase their engagement with farmers by performing more on ground activities. They need to know their customers, the farmer completely. Who this farmers is, what amount of land he is having, what crop he is sowing, what activity he is doing, is he doing this on right time or not, what seeds, pesticides, fertilizers and other inputs he is using etc. If insurance companies has all this data then they can build mechanism to calculate and know what level of risks are there on every individual farmer at the same time can serve him far better. They can provide many value added services to farmers. For example, if a farmer needs a loan they can connect farmers with the banks and agri businesses, provide them advisory on weather or good agriculture practices all customised for individual farmers. There is a huge value for an insurance companies if farmers' losses are reduced.
This is why i believe that if insurance companies can go a mile further using technology then they would be able to add a lot of value. Again I wanted to quote that machine learning based algorithms we developed to create dynamic farm plans for the farmers were able to increase the productivity and profitability of farmers. Similarly, insurance companies can also use this kind of algorithms and provide appropriate information to farmers on what activities need to be done and when. This way they will be able to create humongous value for the farmers.
Sanket: What will be turn around time and ROI for the insurance companies if they invest in the technology?
Deepak: This is the most important question, look I have been running business and I understand ROI is the most important factor in deciding about any project or venture. A state like Gujarat spend around 7000-8000 crores INR as the premium for the PMFBY. Now If we are able to minimize crop losses by even 1 % we would recover the entire investment in span of one or two seasons. By bringing in transparency the trust it can create amongst the farmers is invaluable though. Digital transformation in crop insurance can save around 30%-40% cost of the insurance companies.
Sanket:Do you think this technology will bridge the gap between farmers and insurance companies and insurance companies will have more farmers onboard?
Deepak: Any business would like to invest in technology which will increase their number of customers. This becomes more important when it is for insurance because insurance is nothing but a shared risk. If you have more people onboard the better chances that you will create more profitable model and will enhance the sustainability of the platform. Currently we have close to 5 crore farmers onboard PMFBY out of 13.8 crore farmers, so there are substantial numbers for farmers which are not on the platform so far. Hence an opportunity to get more farmers onboard. Technology can surely make access to the farmer more efficient, effective and scalable. As in other forms of insurance technology has always enabled more customers use insurance, same would be the case of crop insurance. Further by enabling cross sale insurance company can not just onboard farmers, retain them but can also enrich relationship they have.
In MyCrop, we have created a solution which is SMS broadcast to update the farmers about specific types of crops in specific area and village. While it was a simple SMS advisory but it actually created value for those farmers who were not using smartphones. And eventually it helped us to get more farmers onboard. I believe it would be the same case for the insurance companies.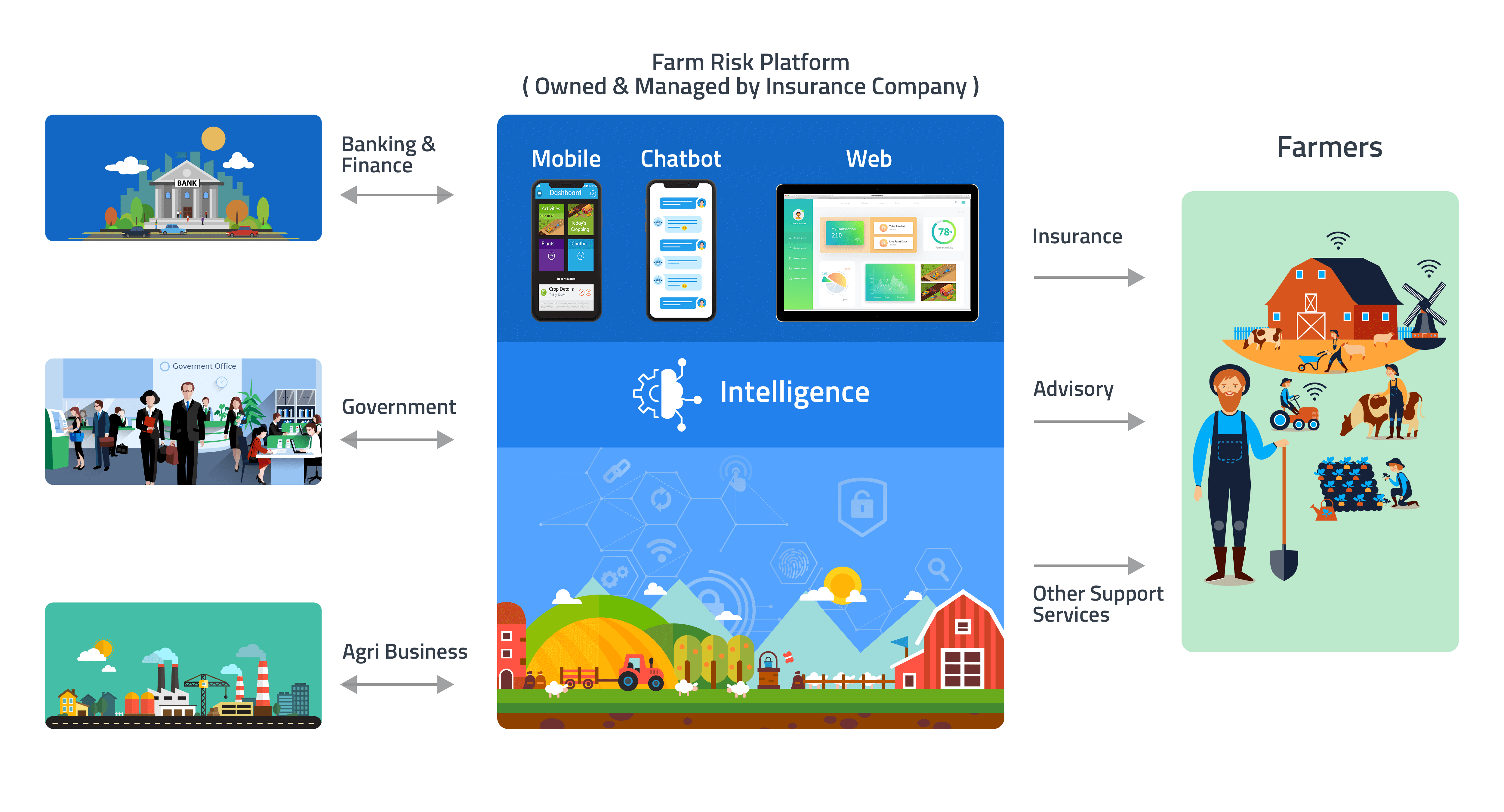 Sanket: Based on your experience in MyCrop and value we have been able to provide to the farmers how do you rate the services offered by IConflux?
Deepak: So Sanket this would be a question I would like to answer with as much honesty as possible. Definitely IConflux has added substantial value in the journey of MyCrop.
Concluding Note
PMFBY is a great initiative but needs a shot of technology to deliver value envisaged by Honorable Prime Minister Shri Narendra Modi. Due to experience of working with multiple AgBusinesses and AgTech companies, IConflux has strong domain expertise in agriculture. Further, due to experience of working on cutting edge technologies including Tensor Flow, RASA (On premise Chatbot platform), Flutter, NodeJS, AngularJS, RPA, NLP and AI/ML, IConflux is well placed to serve the Insurance industry in general and Crop Insurance in particular.