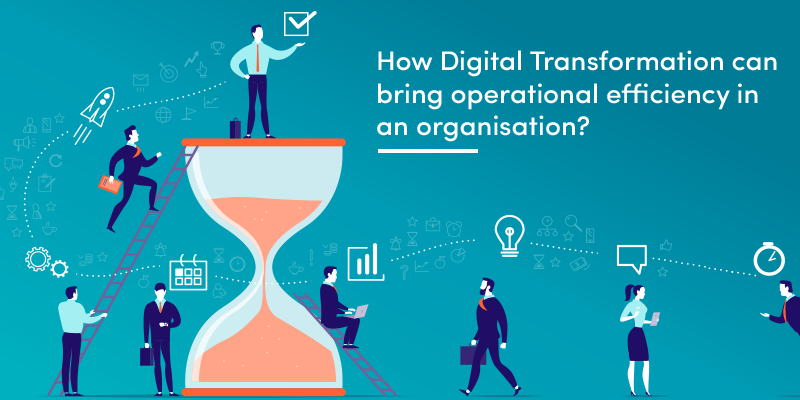 How Digital Transformation can bring operational efficiency in an organisation?
60% Indian companies are expected to shift their all data to cloud by 2030
82% companies from Asia-Pacific are expected to implement data-driven strategies by 2030
The Internet of Things (IoT) market in India is about $5.6 Bn big at the moment
When we saw home computers and the internet for the first time, we had no idea how and when digitization would transform the way businesses operate. And now that the impact of digitization is sweeping across almost every sector – be it BFSI, logistics, manufacturing, or automobile – we can see all of them automating their mundane and repeatable processes and rapidly going digital to achieve a greater operational efficiency.
For example, the online shopping sector improved logistics and delivery systems, digital payments gave transparency and flexibility to the payment ecosystem, digital identification prevented fraud and digital learning platforms enhanced skills across the world. All these changes are indicative of the positive after-effects of the ever-evolving digital ecosystem.
Organisations are investing increasingly in digital technologies to leverage the numerous benefits they bring to the table, for the organisation and its employees. In this article we'll understand how businesses can improve connectivity and improve overall operational efficiency, with Digital Transformation.
These are the 3 technologies crucial for Digital Transformation
1. Cloud – Seamless & Fast Access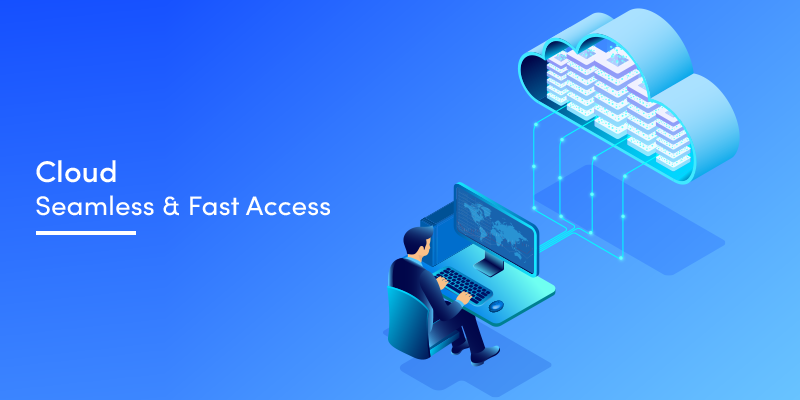 Cloud is one of the most sought-after tech innovations till date. Cloud has been successful in simplifying complex business processes and helping organizations manage data efficiently. By leveraging cloud services, a business is enabled to operate smartly, be flexible and have cost-effective data access.
In the past, what used to be a local process run by computer systems, has now turned into an easy, fast, and effective mechanism to manage loads of data from anywhere in the world. Slowly but surely, it will turn out to be a game-changing solution for businesses - to learn, innovate and expand with the technology.
A study by IBM has revealed that 60% of the Indian companies are expected to shift their data to cloud in the next 10 years. And out of these 60% companies, almost 99% will use Multiple Hybrid Clouds within the next three years.
2. Data – Collect & Analyse Data

With an ever-increasing number of smartphone users who use it as a tool to perform routine tasks & transactions, the opportunity for organizations to collect their data and understand their priorities and behaviour, is greater than ever. However, gathering this data alone is not going to be enough. One needs data scientists and other experts of akin nature to study this data in an in-depth manner and give insights to make informed decisions.
For instance, an organisation gets to know so much about the customers, through queries and interactions in customer service, which can be leveraged to offer solutions that precisely meet the customers' demands. On similar lines, many companies have been using real-time data to provide personalised services to their customers.
PwC's Global Industry 4.0 report highlights - within the next half-decade, nearly 82% of the companies operating in Asia-Pacific region are expected to implement data-driven strategies, in a bid to enhance their executive-level operations.
3. IoT – Connect everything to everything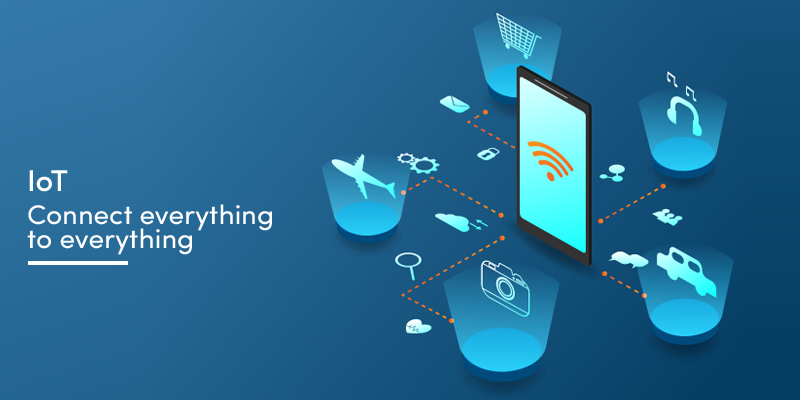 It's no longer about just 'smartphones connecting with other smartphones'. We are living in the times when not just smartphones, almost all devices can be synchronised with other devices using the internet. For example, a smartphone can pair up with a car's infotainment system, and control music, calls, GPS, and so much more.
Similarly, IoT is rapidly being used by many companies to create a connected work ecosystem where employees can seamlessly stay connected with numerous devices – thus streamlining routine tasks, fine-tuning operations and eventually mitigating the operational cost.
At smart workplaces, IoT can automate various routine tasks while monitoring and managing other operations. This creates a direct impact on the company's overall efficiency and ramps up the productivity levels of employees.
For example, many IoT-driven workplaces have sensors installed in the premises. Their data can be leveraged to understand the occupancy of the office space and employees' activities during working hours. This data can be used to schedule meetings more efficiently and eventually create a positive impact on the overall employee productivity.
The IoT market in India is about $5.6 Bn at present, comprising more than 200 Mn connected devices on ground. And this market is anticipated to expand further to more than 2 Bn devices by 2020.
Digital Transformation leads to empowerment!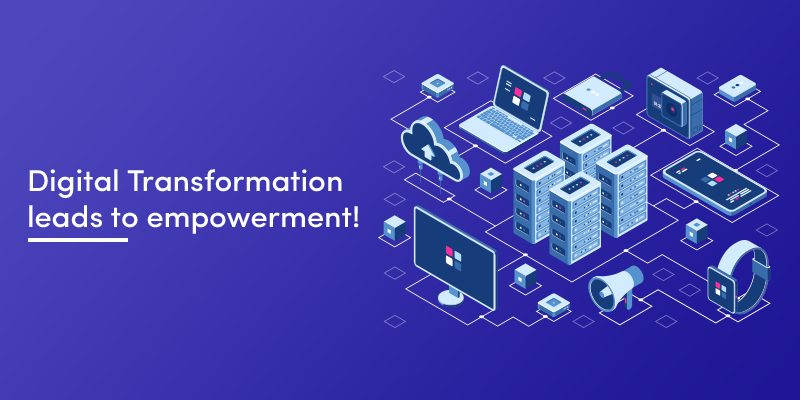 To empower employees at the workplace, HRs and Team Leads should assign tasks and responsibilities correctly and clearly. Employees with a clear understanding of their respective role in the job can perform better. Organizations should always give the employees space, time and proper tools for executing tasks, with Digital Transformation. It adds efficiency to their overall work performance and delivers results in time.
It is important to give the employees flexibility at the workplace, to make them feel comfortable while working, rather than burdening them with stress. Digital Transformation enables employees to strike the right balance between personal and professional life, and feel valued. This, in turn, motivates them further to give 100% to the organization.
At the same time, Digital Transformation provides adequate learning opportunities to the employees to nurture their skills and excel in their respective domains. It makes them agile in their approach to the work and helps them stay updated with the latest trends. Apart from that, it becomes easier to let them participate in meetings where they can discuss and share ideas freely. Digital Transformation leads to innovation at the workplace and eventually improves financial performance.
Conclusion:
These Digital Transformation technologies have been around us and they have been constantly evolving over the years. Nowadays, almost every company is investing in these three technologies – Cloud, Data and IoT - to scale up their operations and achieve better results. The organization that manages to maintain a right balance of these technologies, can conquer the markets rapidly. IConflux is a congregation of Tech Innovators who can bring Digital Transformation to your organization. Contact IConflux on info@iconflux.com or visit Contact us page.
Tagged in