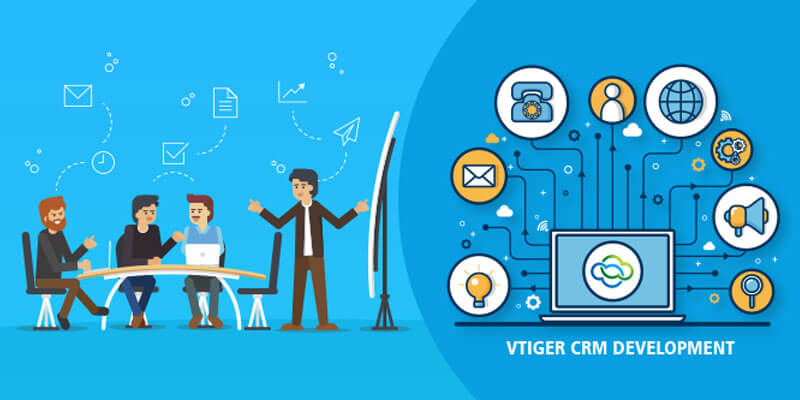 How Vtiger CRM Development Benefits Small And Medium Businesses?
Customer Relationship Management is one of the major aspects that is covered by almost all the organizations as it is the only way to stand out in this cut-throat competition era. Providing the best quality service after the sales and maintaining the relationship with the customer is what creates an impact in the mind of the customers.
CRM application basically focuses on aligning the goals of the company with the requirements of the clients and making them happy and satisfied. The main aim is to make the customers stay or come again and again by providing them the best of the services or products.
Vtiger CRM is basically a CRM application that is available freely i.e. - open source. It is a CRM software that is highly suitable for small and medium-sized businesses and ventures.
About Vtiger CRM
The Vtiger CRMis designed in a way that it has good architecture and supreme quality technology that provides high-quality reporting, better-built database, lead management, inventory management, etc. Above that, the CRM can be utilized in a smooth well through internet as it is developed using high-end technologies including PHP, Linux, and MySQL.
One of the best features of opting for Vtiger CRM is that it supports the internal process along with the ways for employees on how to manage the data in the best possible manner.
The Benefits of Vtiger CRM Development for Small and Medium Businesses Are As Follows:
1. Managing the Leads
In Vtiger CRM, Lead is an unqualified customer; with systematic follow-ups and earnest efforts, you can identify potential prospects. Generating Leads is supposedly the first step of Sales Process in Vtiger CRM. A Lead record maintains information about a person, and the company he is associated with.
Vtiger CRM supports importing leads from external sources such as .csv and .vcf files. You can import lead records in bulk if you've purchased lead lists, gather leads from different Sources etc. As it saves lots of time and efforts, it might come in really helpful to your sales team to import thousands of records instantly.
2. Managing the Opportunities
Opportunity represents prospect with plentiful chances of generating revenues. It provides strategy to follow up prospective customers who are likely to successfully finish the sale. It helps you track the potential of prospects through the sales cycle.
A Lead can also be converted to an Opportunity to track the Sales process from Lead Qualification to End of sale (Deal won or Deal Lost) the things you can exclusively do only with Opportunities.
3. Managing the Contacts
Contact can be represented as a qualified sales lead. Contacts differentiate qualified customers from the huge list of unqualified customers. Contacts also represent the people that are conducting business with you. They could be acting individually or representing an Organization.
4. Managing the Inventory
Products represent the stock of goods in your Inventory. Products can be either procured from your suppliers or rendered to your customers depending upon nature of your Organization. If your company manages both selling and purchasing goods, Products module will act as a bridge between Sales and Purchase departments.
5. Managing Sales Order & Invoice
Sales Order is an internal document generated by the company after the Purchase Order is received. It helps your sales team track all the Products or Services that should be manufactured, shipped, etc. according to the agreed prices and dates. Sales Order can be converted into Invoice which can reduce the time of creating Invoice.
6. Managing Support
Tickets also called as Cases are post-sales support requests generated by your customers. It offers your sales team the flexibility to create, communicate, edit, and close the case after the right solution is delivered to your customers.
Tickets provide a great way to handle cases. You might need to create a case for a Product, Contact or an Organization.
7. Managing the Project
A project is a planned work that involves specific goals, start date and target end date, budgets, progress etc. Comments will help you to collaborate with users. You can also track the issues identified and fixed by associating projects with Tickets module.
8. Managing other Activities
Vtiger CRM manages all the day-to-day activities of the users that can help in conducting the sales process. In connection with the evolving future needs and growth, Vtiger CRM compiles all the necessary emails that are related to the customers. Moreover, it stores all the details that belong to the meetings and calls of the customers.
It simply does all the stuff that relates to daily/routine activities as it can help to get closer to the customer.
9. Customizing the CRM
Vtiger Customization is one of the best features offered by the CRM. As Vtiger CRM is an Open Source, It can be customized as per the company's requirement. So no need to adjust more, modify your Vtiger CRM as per your Business's flow.
Final Thoughts
Choosing Vtiger CRM for your business is the best way to convert your leads into opportunities and get higher sales for your organization. In order to get the better idea about the same, book your Vtiger CRM Demo with us now and find out for yourself how it can be amazingly useful in your daily business activities.
Contact IConflux on +91 - 95127 87877 or send an email to info@iconflux.com, if you are looking for to develop IoT Application.
Tagged in