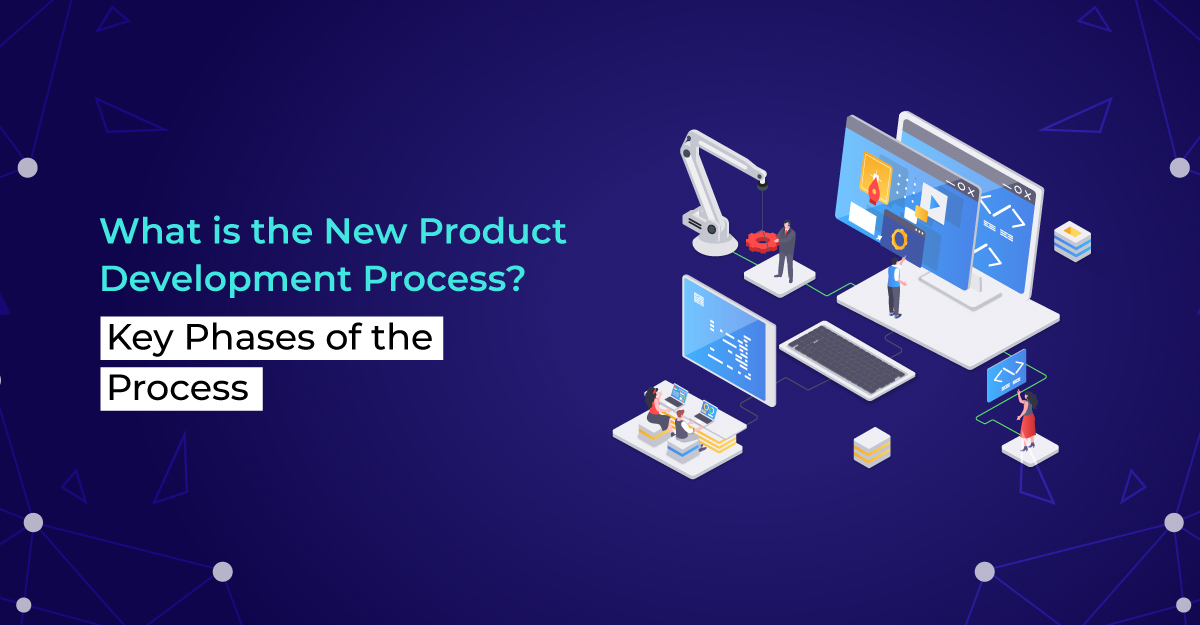 The product development process is a long and complicated one, but it's essential for creating a great product. This is the process by which a product development company takes an idea for a product and turns it into a reality. It's a multi-step process that includes research, design, testing, and more.
In this blog, we'll discuss the critical phases of the new product development process and what they involve. This is essential reading if you're considering launching a new product.
What Is The New Product Development Process?
A product or service's journey from ideation to market is called new product development. The procedure outlines a number of steps that new products usually take, starting with ideation and concept generation and concluding with the product's introduction to the market. Some of the stages may overlap or change depending on the type of business. It's a long and complicated process, but it's essential to get it right.
Key Phases of the Process
We now understand that a structured, systematic, and value-driven product development process is the only alternative for developing and improving new products.
Let's dig into the 7 major phases of a new product development process:
Idea Generation
There are a lot of factors to consider when generating new product ideas. Developing an initial product concept is the first step. Next, you need to think about who your target market is, what needs and wants they might have, and how you can solve their problems.
It's also essential to come up with original and differentiated ideas from what's already out there by researching and paying attention to industry trends and the statistical data available. Brainstorming is a great way to come up with new product ideas, but don't limit yourself to your own ideas. Get input from your team, your customers, and anyone else who might have valuable insights.
Defining Concept
The Concept phase is where you define the product. What does it do? What are its features? It's during this phase that you do your research, brainstorm ideas, and make a plan for how to bring your product to life. You'll also need to come up with a budget and timeline, so you can start putting things into motion.
Concept Design
The process starts with concept design when your company decides to develop a new product. This is where your team comes up with ideas for what the product could be. It's a very creative process. That's why it's essential to have a wide variety of people involved, from engineers to marketing experts to salespeople.
The best concepts will then undergo a process of refinement, where they're tweaked and improved until they're ready for production. This is a crucial step because it's during refinement that you determine things like cost and feasibility.
Implementation
Once the product development process is in full swing, it's all about implementation. The product manager, engineers, and developers thrive at the implementation stage. The product is conceptualized by developers, comprehended by engineers, and managed by a project manager. To ensure that the design and features match the finished product, the engineers test them against it.
The product manager is responsible for setting feature priorities, developing product specifications, and testing the product to ensure it meets specifications. From there, the project manager receives everything from ensuring development keeps on schedule. Because project managers are particularly conscious of time and financial restrictions, this teamwork is very significant. They might be too zealous to take charge at the exact moment.
Marketing
When it comes to the product development process, marketing is one of the key phases. After all, it would be best if you made sure that people know about your product and are excited to buy it.
There are a lot of different marketing strategies that you can use, but you need to find one that works best for your product. You also need to make sure that your messaging is clear and consistent across all platforms. It's important to have a clear plan and stay on track so that you can bring your product to market as quickly as possible.
Training
When it comes to product development, training is vital. It would help if you had a team that's knowledgeable about the process and how to carry out your vision.
That's why we offer comprehensive training programs that cover everything from design and engineering to manufacturing and marketing. Our team is dedicated to making sure you have the tools you need to bring your product to life.
We also have a state-of-the-art facility where you can see your product being manufactured and tested. This gives you the peace of mind that your product is being made to the highest standards possible.
Launch the Product
After the product has been finalized, it's time to launch it! This is usually a very exciting time for everyone involved in the process, but it can also be a little bit nerve-wracking.
A lot of things need to happen during this phase, from creating a marketing strategy to getting the product ready for shipment. You'll also need to make sure that you have everything in place for customer support.
It's important to take the time to make sure that everything goes smoothly and that you're ready for anything that comes your way. Launching a product is a lot of work for every product development company, but it's worth it when you see those first sales figures come in.
Conclusion
When you're looking to develop a new product, it's important to go through the product development process. Whatever your product is, make sure you are constantly looking for market insights. This will ensure that your product is manufactured and marketed in the right way and that it meets all the necessary requirements.
No matter what stage your business is currently in, it's important to understand the product development process and how it works. Availing of exceptional product development services helps in making the process easier and less overwhelming.