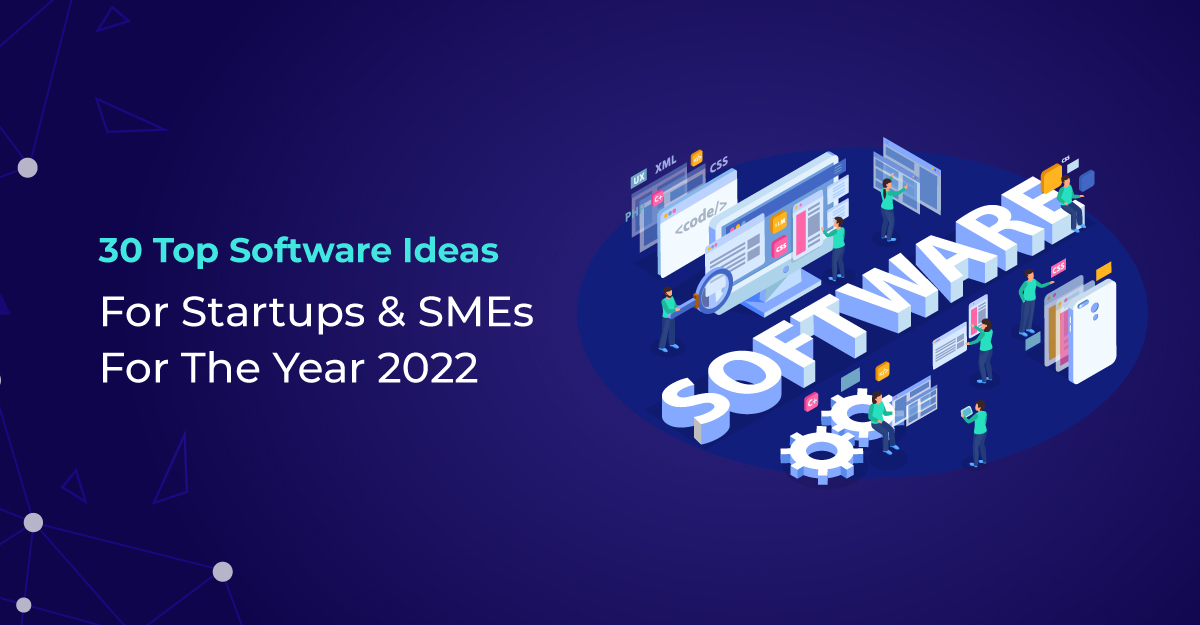 30 Top Software Ideas for Startups & SMEs for the Year 2022
The software industry is booming and showing no signs of slowing down. If you're a startup or a small to medium-sized enterprise (SME), it's a great time to get into the software business.
Due to the growing digitization, a solid digital presence has become crucial for startups and small businesses. Software App Development helps you automate processes and workflows, which saves you time and money. It also allows you to track your business performance, identify trends, and make better data-based decisions.
And let's not forget about customer satisfaction. With the right software in place, you can wow your customers with a fantastic user experience that sets you apart from the competition.
In this article, we've compiled a list of 30 top software ideas for startups and SMEs. We've included various software product development ideas, so there's something for everyone.
1. CRM Software
CRM software is essential for businesses of all sizes, as it helps you manage customer relationships and track communications. Due to the fact that every business requires CRM to organize and optimize its interactions with consumers, it is one of the most lucrative software startup ideas. In 2028, the CRM industry is anticipated to reach $100 billion.
High-quality CRM services can benefit businesses in a variety of ways, including— Superior customer service, increased sales, centralized data access, and generation of automated sales reports.
2. Medical Software
Medical software is one of the most important types of software for any business. It helps doctors and nurses keep track of their patient's medical history, as well as track their current health status.
Medical software notifies the patient when a health check-up is necessary. Additionally, it will inform the user of its authorization status and send a text message appointment reminder.
3. Blockchain Tax/Invoicing App
Imagine if you could manage your entire business with a single app. That's the promise of blockchain technology, and it's why a blockchain tax/invoicing app is a top idea for startups and SMEs.
Here's how it would work: you'd create an account with the app, and then you'd be able to track all your transactions in real-time. No more waiting for snail mail to arrive or trying to decipher illegible handwriting on a crumpled invoice.
The app would also make it easy to keep track of your expenses so that you could always stay on top of your finances. And because the app is built on blockchain technology, it would be secure and reliable.
4. Hotel Booking Software
Hotel managers can handle bookings, reservations, and guest data thanks to hotel booking software. It simplifies the procedure for handling guests and accommodations. It tracks available rooms, produces reports, and emails visitors with confirmations.
The user of this app can reserve rooms at several hotels. They can select the specific hotel and room names and reserve that particular accommodation. You are free to proceed with this software project idea and make it a reality. Your hotel reservation system has a long line of people waiting to make reservations.
5. ERP Software
ERP software provides a single system that integrates all the different aspects of your business—from sales and marketing to accounting and HR.
ERP software is a great way to manage your operations more efficiently and get a better grip on your finances. It can also help you make better decisions about where to allocate your resources and how to grow your business.
ERP software is used by some of the biggest companies in the world, and there's a good reason for that. So if you're looking to take your business to the next level, ERP software is a no-brainer.
6. Cloud-Based Presentation Software
Imagine this—by 2022, you could be giving presentations that are hosted in the cloud—no more worrying about your computer crashing or losing your files.
Cloud-based presentation software is an excellent option for startups and SMEs because it's affordable and a great way to keep your audience engaged. Plus, you can access your presentations from anywhere.
7. Time Tracking Software
If you're running a small business or startup, then you know that time is money. And that's why time tracking software is so essential.
With time tracking software, you can track the time you and your team spend on different tasks. This way, you can get a better idea of where your time is going and identify any areas where you might be able to save some time.
8. Business Communication Software
Communication is the lifeblood of your business, and if you can't communicate effectively, you're not going very far.
That's why communication software is so essential. It helps you keep in touch with your team, your clients, and anyone else who's vital to your business.
9. Project Management Software
It is used by organizations and businesses to schedule, monitor, and finish projects on time, within budget, and within the resources available. It automates numerous tasks and operations and provides valuable information about the project's development.
Depending on the size and scope of the project, this software is created for specific sectors.
10. Vehicle Maintenance Software
By connecting vehicle owners with leading automotive care providers, a door-step vehicle servicing platform and application will use technology to simplify life for vehicle owners. The platform can provide assisted door-to-door pickup and delivery, a built-in inventory management system that cuts down on waiting times, more intelligent stock allocation, an order management system, and more.
11. Ticket Management Software
You can develop a ticket management service for making reservations and controlling the schedules in various locations, including theaters, restaurants, parks, and more.
The business and the consumer can both gain from these software businesses.
12. Automated Payroll System
Calculating payroll is both the most time-consuming and crucial part of any organization. Because all computations and payments are performed on time, an automated payroll system saves a lot of time and money.
By automatically calculating paychecks, this program accelerates the payroll process while protecting confidential data. Additionally, it maintains records of employee vacation, sick leave, overtime, general performance, and tax computations.
13. FinTech Software
A significant requirement today is the development of software for efficient financial management. You could develop a software application to help individuals manage their finances well. If you're integrating fintech, make your solution stand out by overcoming every obstacle in regular financial administration.
14. Internet of Things (IoT)
As more people and companies rely on connected gadgets and intelligent solutions to make life easier, the Internet of Things is becoming more well-known and gaining traction. The prospects in IoT are expanding as more businesses jump on the bandwagon. IoT can be used to benefit companies in several areas, just like AI.
15. Software for Detecting Data Leaks
Data is currently the most expensive asset for both individuals and organizations. As a result, people are eager to safeguard their data. Thus, this is a potential field of software development where you can create the best solution for preventing data leaks. Hence, a comprehensive system can stop data loss at the source.
16. Language Learning App
An app that offers introductory classes in various languages is one of the most brilliant automated business ideas for 2022. The voice feature of the app allows users to understand how words are pronounced.
17. Audio to Text Converter
It helps users in turning the audio files into text. It converts audio to content and makes it search engine-friendly. Additionally, there is no competition because this software uses Machine Learning, a relatively new technology that not many people are familiar with.
18. Image to Text Converter
The primary purpose of this software is to convert PDF files into text files. Such software can be developed and offered to potential clients. The demand for text to be converted from photos has grown over the last few years, necessitating the use of such cutting-edge technologies.
19. Health/ Fitness Application
An online software for healthy living that allows users to track their actions and is targeted at people who are concerned about their health. It will also link users with trained nutritionists, pathologists, and health coaches to reduce the probability of lifestyle issues. Specific food plans, lifestyle plans, and nutrition plans are also provided based on the user's health.
20. Credit Card Fraud Detection Software
Technologies for detecting credit card fraud can utilize ML to analyze user behavior patterns. For the purpose of identifying fraudulent behavior, these programs use location scanning methods. Additionally, they keep a record of the user's prior transactions, using which they can compute typical user activity patterns.
As a result, these systems have the ability to inform users when suspicious activity is detected and potentially block the credit card after three unsuccessful tries.
21. AI Shopping System
Developing an AI-based shopping system can be a great business opportunity for those looking to create their own enterprises in the age of AI. The AI shopping systems are equipped with a database of frequently used phrases and are able to track search and purchasing habits as well as past purchases. Also, they already have data from a variety of products. Users ultimately benefit from this when buying.
22. Screen Recording Software
Users of this software can produce videos and record instructions. These screen captures are typically used to create lessons for various programs and languages. Thus, having the ability to record their screens in case they discover anything significant in the script or video can be a smart idea for software businesses. It will continue to work while live streaming is taking place.
23. Video Editing Software
Social media use is growing; more and more people are sharing videos of their daily lives on social media. As a result, these posts must constantly come off as sophisticated and attractive. Here is a startup idea for video editing software that enables users to create compelling videos.
24. Plagiarism Detection Software
Plagiarism is something that Google resents. Google doesn't just prohibit plagiarized information; it's also banned by numerous educational institutions, media organizations, publishing houses, etc. The need for plagiarism-checking software is therefore evident.
25. Daily Horoscope Software
As long as people are interested in knowing what will happen to them both now and in the future, astrology will remain a popular field for software development. Software platforms that can calculate birth charts and forecast daily, monthly, and yearly horoscopes can be a successful software business idea.
26. Customer Complaint Software
These are practical technologies that businesses can implement to record customer complaints automatically. There you have it—another great startup business idea for software developers.
27. Housekeeper Finding App
To find housekeepers, users can utilize this app. People can avail of services such as cooking, washing, dusting, dog walking, etc. This helps housekeepers who lack training or are unaware of the market value of their occupation receive appropriate compensation.
28. ATM with Fingerprint Recognition
This is yet another innovative field of software development that makes use of fingerprint scanning technology to give users a safer and more reliable way to access their bank accounts in the ATM.
This cutting-edge technology will enable customers to use ATMs to withdraw cash without using their debit cards.
29. Software for Food Inventory
Grocery shop inventory management can be a complex procedure. Thus, food inventory software can be used to solve this issue. Large department stores, food delivery services, and restaurants can all make use of these technologies.
30. Cropping Software
People can crop their images according to their needs or preferences with the aid of cropping software. The majority of the time, the photos we take need some undesired elements cropped off. In this situation, cropping software is necessary.
All In All
These are just a few examples of the types of software that will be in high demand over the next few years. If you're looking to start a software company or are already running one, keep these ideas in mind. There's a lot of opportunity in the software space, and with the right idea, you can be successful. We at IConflux can help you execute your innovative business idea through our professional software product development services.
Tagged in