Which are the popular platforms to build a Chatbot in 2019?
Many people say Chatbot is a new thing but do you know that the first Chatbot ever, was actually created by Joseph Weizenbaum in 1966. It was named ELIZA. This was the first time that a human talked with an Artificial Intelligence (AI). Thus begun the era of pre-programmed responses and millions of businesses have installed their own Chatbot today in 2019. Why? Because Chatbots market is slated to grow to $1.25 Bn. By 2025 and it will save the businesses $ 8 Bn in text 5 years.
In this blog, we will know…
What is a Chatbot?
What are the types of Chatbots?
Which are the popular platforms to build Chatbots?
What is a Chatbot?
Chatbots are Artificial Intelligence, in the form of a computer program or software, that is designed to conduct a conversation with users online. Today, you can do business, purchase services, give treatment, resolve customer grievance and even be friends with a Chatbot. And they are everywhere. Gartner Research says more than 80% of the customer interactions will be managed without a human by 2020. The chart below shows the numbers of monthly active users on popular platforms, in millions. Today, more than 10,000 developers are building a Chatbot just for Facebook Messenger. This is big! IConflux creates totally customized Chatbots, click here to get one for your business.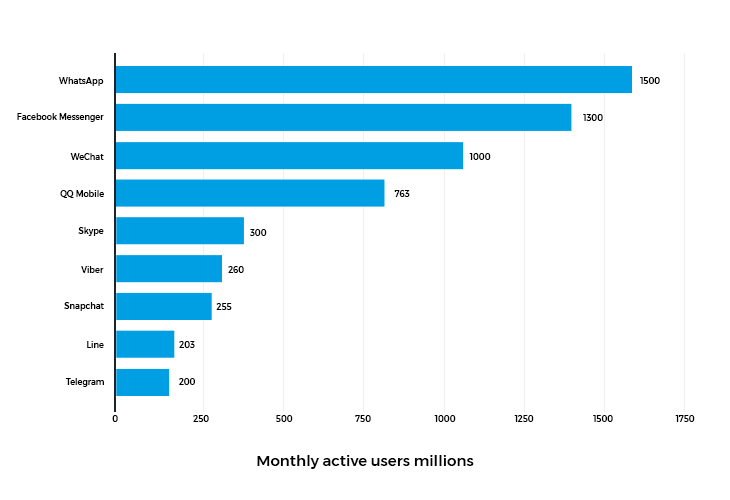 What are the types of Chatbots?
The two basic types of Chatbots are…
1.Simple Chatbots 2.Intelligent Chatbots
The simple Chatbots are based on pre-defined script of responses. The Chatbot doesn't change its response in any case. A lot of eCommerce businesses use this type of Chatbot for offering the customers products based on their keywords. Intelligent Chatbots are, as the name suggests, intelligent because they are created with capability to learn from each conversation and answer the next time more appropriately. It can resolve problems based on its prevalence, offer the products that are most popular, plan the conversation for a better user experience and even understand user's emotions.
But there are 4 main type of Chatbots based on their utility…
1. Personal Chatbots
Not only businesses, a person can create his/ her own replica on a messenger and manage a conversation with millions of people at the same time. It is a great possibility because you can create a chatbot that talks with everyone nicely and listens to their complaints with a smile(y). It's about time the popular people embrace the 'Chatbot for Celebrities. You can deploy them on Facebook, WhatsApp or your own website. Deploying a chatbot is now easy and fast.
2. Support Chatbots
This are more of simple type of Chatbots which are designed to offer support based on the context. Support Chatbots can walk a user through a situation and resolve their issues quickly. They are easy and to the point, designed to reach practical resolution. These types of Chatbots are very useful in ITSM where multiple users are trying to resolve their software/ hardware issues.
3. Sales & Marketing Chatbots
3.These types of Chatbots are a little more smart and entertaining than others. They can remember the customer's history and preferences, they can do cross-selling and upselling, they can maintain the user's interest in the chatbot, and extend the conversation. They can assist people in making a purchase, do banking, book tickets, order food, provide customer service and everything else that any customer could ever need.
4. IoT Chatbots
These are Chatbots that can follow the command and perform predefined action. They are totally based on contextual awareness and they are very simple, though they have a greater control over hardware in real life. You can tell a bot to switch on your AC before you reach home or open the gate, right from where you are standing. That time is near when you'll be talking to your refrigerator.

Which are the popular platforms to build a Chatbot?
There are several platforms that allow you to build a chatbot. So, it depends on the requirements of each project, how to select a platform to build a Chatbot.
1. Chatfuel
Chatfuel is a free Chatbot Platform which allows the user to create a Chatbot with so much ease. Any developer can easily understand its processes and it can be readily integrated with Facebook Messenger. If a business wishes to use it services professionally, it might have to purchase their premium package because the free version comes with a limitation of 100K conversations. It allows creation of both- AI based Intelligent Chatbots and Simple Chatbots, using tools like content cards, buttons and forms. Organizations such as British Airways, Volkswagen, and Adidas use Chatbots made using Chatfuel.
2. Flow XO
Flow XO is one of the only platforms that allows you to create a multipurpose Chatbot. Developers can create Chatbots for more than 100 platform such as Jeera, LinkedIn, Twitter, Trello, Zoho and YouTube. There are many pre-built templates to choose from and you can also integrate Smart AI, Machine Learning, and Analytics with the Chatbot through plugins. Similar to Chatfuel, the free version allows a limited number of conversations and then you need to purchase the premium license. It can be used for creating both – Sales & Marketing as well as Support Chatbots.
3. Bottr
Bottr is a perfect platform to create a personal Chatbot. It is really easy to use and anyone can create a chatbot for Facebook, LinkedIn and Twitter within minutes. One of the coolest features of Bottr is that it integrates seamlessly with Facebook and its questions are fetched from the Facebook data. It can also use data from Wikipedia, Medium and WordPress too.
4. QNA Maker
QNA maker is a platform created by Microsoft. The coolest quality of QNA Maker is that it can create a simple Chatbot using ant set of Frequently Asked Questions (FAQs). You can just share the URL of an FAQ page of a website and the Chatbot is ready. The Chatbot is of course a Simple Chatbot which can answer the user's questions however, it is so much accessible, that make QNA Maker special. And if you want to integrate cognitive functions and AI through Microsoft Cognitive Services for a more human approach.
5. Converse AI
Converse AI is a platform which allows building Chatbots without coding. A developer can build and deploy a Chatbot using visual tools. It can create Chatbots that can have conversations using text and rich media both. Also, it has its own query & analytics engine and NLP Parsing engines. Converse AI Chatbots can be integrated with multiple platforms and they have the ability to design responses by tracking, analysing and understanding the behaviour of users on the Chatbot.
Conclusion :
We can not assign a ranking for the Chatbot platforms because they are really different from each other in their technology as well as utility. But these 5 Chatbots platforms are in the list of Top Chatbot Building Platforms of 2019. That says it all. Needless to say, Chatbots are a huge relief for businesses who have to manage multiple conversations with users at the same time.
Regardless of which industry they belong to, more than 96% businesses agree that Chatbots are here for a long haul. If you have ever used a Chatbot personally, you know why!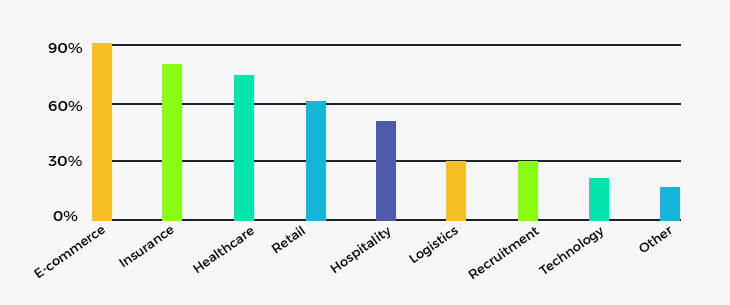 IConflux is one of the leading IT Solutions Provider company that offers enterprise-grade IT services, CRM solutions, ITSM solutions, expert Chatbot development solutions at a very cost-effective price. With more than 9 years of experience in providing IT solutions to the world, IConflux has made a name for itself among the IT Solution Companies in India. You can contact IConflux anytime on info@iconflux.com. or you can just contact us on our website here.
Tagged in