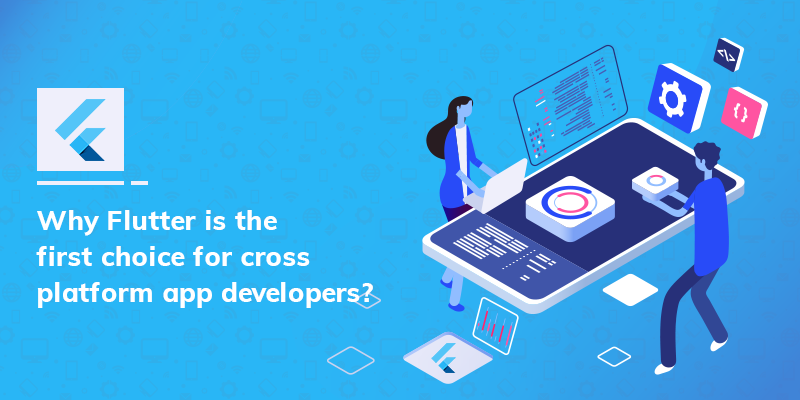 THERE'S AN APP FOR EVERY IDEA!
What a powerful thought it is! It reflects both – the current market scenario and the potential of the MOBILE APP universe.
FYI: The number of apps available in leading app stores as of 1st quarter 2020 is nearly 5.5 Million.
Seems like, it is a good time to be a Flutter app development company! Even during the ongoing COVID – 19 pandemic, the development activity by Flutter app development companies has been going up sharply. Tim Sneath - Product Manager for Flutter says "Despite these unprecedented circumstances, in March we saw 10% month-over-month growth".
Today, nearly half a million developers belonging to top Flutter app development companies, use Flutter SDK to create amazing apps.
Why it has become a darling for Flutter app development companies?
Because you can create almost anything and everything using Flutter. You can easily build casual game app, news app, multiplatform dart movie app, social media app, cryptocurrency wallet, radio station app, weather app, fleet service app; the list is endless. It is the top choice for cross-platform app development.
Yes, you can create an app for both Android and iOS. Isn't that amazing!?
Overall, there are more than 2 million Flutter users in the world. Flutter is most-preferred SDK in India, China, the United States, the EU, and Brazil. And more than 50,000 Flutter Apps have been published on different app stores already.
Let's go through some important Flutter statistics in 2020…
35% of Flutter developers are working for start-ups, 26% are working for enterprise developers, and 7% work for design agencies.
Nubank - the largest digital bank outside Asia with over 20 million customers, has used Flutter for developing their banking app.
More than 10,000 Flutter apps have been uploaded on different app stores, in March 2020.
Flutter apps are developed using built-in widgets, not platform widgets, so the app size can be roughly estimated around > 4MB.
The average Flutter app development cost ranges from $15,000 to $50,000 – which is almost half the standard market price.
The per hour cost of a skilled Flutter app developer ranges from $24 - $49 per hour.
Latest Flutter update in 2020
Flutter 1.0 version was launched by none other than the IT giant – GOOGLE in 2018. Since then, Flutter has been going through numerous updates. And every time, numerous new features have been added in the widget library. In April 2020, Last week, Flutter announced 'CodePen Support' for Flutter developers. And they have developed awesome pens such as Twitter Clone, Generative Abstract Art, Dr. Strange Chakra Animation, Rotating Carousel, Nougat Animation, Double Pendulum, etc.
The latest version of Flutter - version 1.17.0 was released on 6th May 2020.
Flutter uses the layered structure for developing apps. This makes it easier for the developer to make changes in the technical infrastructure. Also, flutter comes with the HOT RELOAD feature which allows them to see the changes and review them instantly. Flutter allows you to select from a huge range of widgets and customise the app easily.
Flutter is based on Google's own programming language DART. It is very convenient for the developers – it improves productivity and allows Flutter app development companies leverage the SDK to the maximum.
Everything is possible with Flutter!
The world of technology gets evolved every single second and it is evident, just look in your phone. These apps are developed using different SDK (Software Development Kit). Every day, people are creating new app building platforms and upgrading the existing ones.
So, it's truly said – there is an app for every idea!

And we need to leverage Flutter to the maximum in 2020!