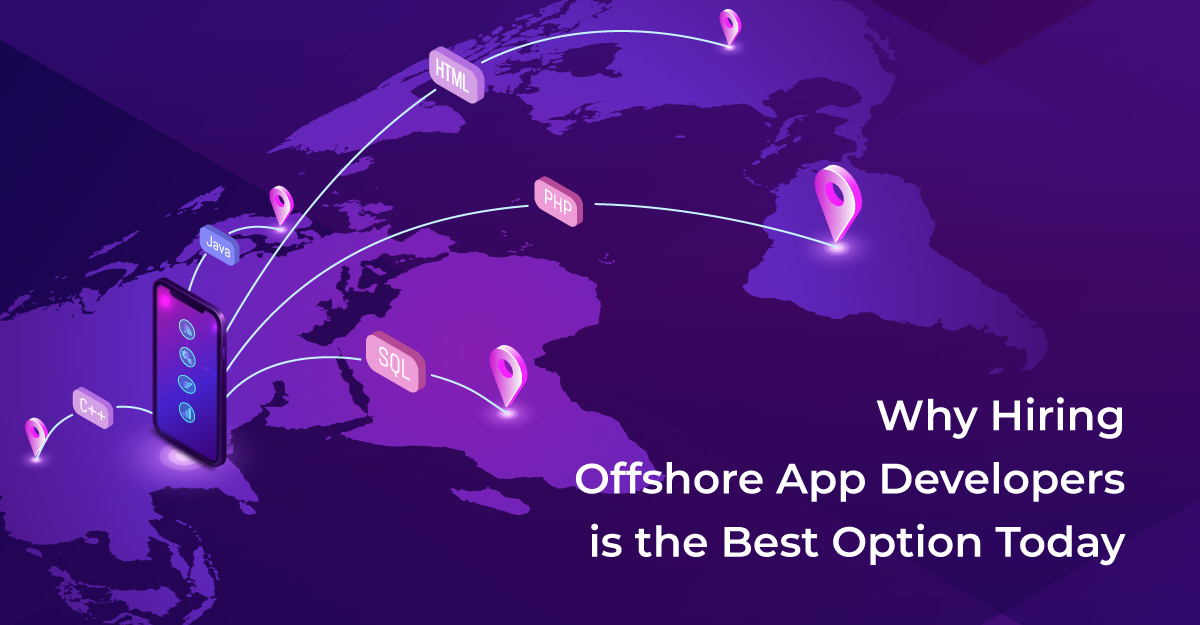 The recent pandemic has shown and proven that companies can work remotely. We are currently living in a mobile-enabled world. You no more need experts in-house to make a bigger project work. What you need is experts attached to your company, collaborating with a project while they remain at the place that they are based in.
The best way to ensure the greater success of any tech project with minimum cost is by hiring offshore app developers. By offshore, we refer to technical experts that are based in other countries. These countries have a higher concentration of tech giants who you can use to achieve tremendous success with your projects.
With the changing times and the clear proof that working remotely does not affect the workflow or even the work ethic, business people have started looking into options available to offshore app developers. These app developers have a different set of ideas and a working system that can bring the spark back into your team with their fresh ideas in the field of app development.
Not only that, but you also get the services and a chance to collaborate with field experts with the help of offshore app development. You can obtain all this while saving money. Through this process, you can cover the absence of skill, ideas, expertise, and other such prerequisites while working on any project.
But, what is this offshore app development that has been the talk of the town recently? It is a process opted by various businesses in which an IT company hires another IT company located in another country for a project. The projects done through this business approach can vary as per the need of the IT Company. These may include website development, app development, software development, and many more.
Advantages of Hiring Offshore App Developers
Some experts stay away from hiring offshore app developers because of their own past experiences or because they are still unsure about the whole remote-working process. If you are wondering whether it will be a good option to hire an offshore app developer, we have listed all the benefits that you can avail them.
Reduced Development Cost
Most IT Companies that pick for the approach of offshore app development are ones who are working under a strict budget. These include start-ups and other small companies that need an expert working on a project but cannot afford one working for them in-house.
In such cases, hiring an app developer based in another country becomes the best option as you get the best experts at a cost that fits your budget. One of the biggest providers of offshore app developers, the Philippines, has seen a dive in the rates asked by the app developers because of the plunge in the economy post-COVID-19.
Flexibility
For a start-up, working relentlessly with your team to achieve the best results in your project is essential to stay alive in the field. By hiring offshore app-developers, you can work on your project no matter which time-zone you live in or what day it is. Most app developers who offer services offshore work as a freelancer. Freelancers work at the schedule that suits you the best so that they can sort any of your queries and address all the issues of the project immediately.
No Infrastructure
It is not a stereotype when one says that start-ups start from a garage. Most of the time, the founders of these start-ups do not have the funds to put into buying a building or office that can accommodate all of their staff. By hiring offshore app developers, you can have a working team without the need of spending or investing in creating an infrastructure for them.
Furthermore, you do not need to provide them with hardware, equipment, and other such things that they might need for the project. Most offshore app developers already have them.
High Quality
You do not need to spend time training your employees or invest in hiring employees that hold experience in the field. You can get trained and experienced employees by hiring offshore app developers. They will provide you with the best quality end results without any investment of time or training from your side.
Additionally, most freelancers offer revisions and reassessment once the project has been completed. Thus, you do not need to look for someone else to reassess the work that has been done by the offshore app developer.
If you choose to hire an offshore company for your project, then these companies are equipped with the state-of-the-art technologies that can aid in providing the best results for your project.
Talent Acquisition and Retention
If you think that hiring offshore app developers whose resume suits your needs, then you are wrong. There is a constant supply of these app developers that you can contact through their websites or profiles on sites such as LinkedIn. Various Asian countries produce talented and skilled IT and software engineers that you can employ for your project at your convenience.
Excellent Management
Offshore app developers know the standard protocol that is followed around the world. You will not need to spend resources and time to orient them while joining the company. They know that hitting the deadlines is essential, and the work ethic that they need to follow to provide you with the best results.
Concentrate on Business Development Expansion
Now that you do not need to spend time searching and investing in-field experts who can develop better and more efficient apps, you can expand your start-up by turning that investment into other approaches.
With the spread of remote technologies, it is now possible to make wonders in your business by employing the best experts from around the world.

There are tons of collaborative applications and tools available now that make working on a project from anywhere in the world manageable and cost-effective. By hiring offshore app developers, you can inculcate new ideas and better results in your company without any additional investment.