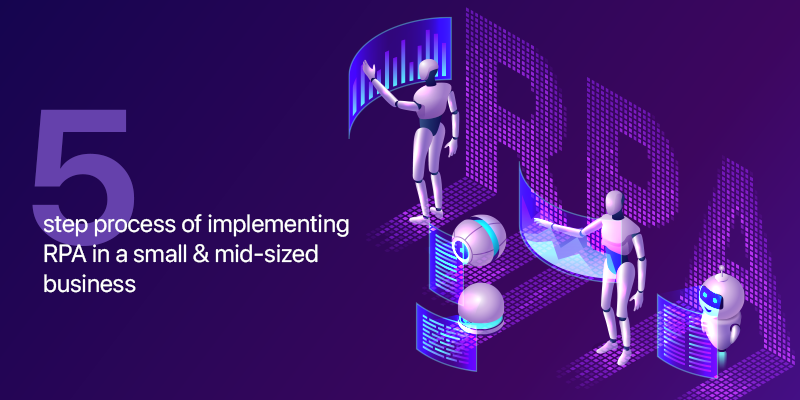 Life is easier for big companies.
Sad, but it is true!
Small and medium-sized businesses face a lot more challenging scenario when they go to the market. Starting from resources to processes and competitors to consumers, they get to see the worst of everything.
Only one thing can do justice for them – TECHNOLOGY!
Technologies such as RPA Development, Artificial Intelligence, Block Chain, Cloud Computing, etc. have the ability to let small and medium businesses compete. Especially, RPA Development – which helps in boosting productivity and reducing costs. There are mundane tasks in every business. Things that doesn't require active human participation, usually take up a lot of man-hours. RPA is the answer to that.
"86 percent of respondents indicate that their expectations of productivity improvement from RPA Development were met or exceeded, while the same is true of 61 percent in relation to expectations on cost reduction."
The 3rd Annual Global RPA Survey Report
In fact, these two qualities or RPA Development has caught attention of so many small and mid-sized businesses. These SME companies are the backbone of every economy. And they deserve all the help of technology that is available today.
Also, it is a lot easier to implement RPA in small and mid-sized businesses, where employees are less than 250. In small enterprises, the workforce is much more familiar with the processes, as compared to the large enterprises.
In this article, you can read how small and medium sized businesses should implement RPA in their organization.
Step 1: Build a workforce which can accommodate RPA
A SMART RPA SYSTEM can take up almost every repetitive task and free-up those employees for more important tasks. At the same time, it allows you to hire only those people who can actively contribute to the progress of organization. So, before implementing RPA, the management needs to assess the preparedness of their existing workforce. The managements also need to create awareness and build additional skill-set in the workforce. A smart workforce will help an SME make the most of the Robotic Process Automation.
Step 2: Create a standardised workflow and processes
RPA can work wonders for the small and mid-sized businesses, when Business Process Management (BPM) is optimized along with RPA. An organization needs to standardise its other internal processes so that RPA can give results. If the other processes are not in sync with RPA, then it cannot be effective. This is an important part of the foundation which is created before implementing RPA. Of course, RPA cannot be implemented for every task in a business SO all the other processes needs to be reorganized, prepared and streamlined on the lines of RPA system.
You can see that Step 1 & 2 are not exactly about implementing RPA but they are about creating a ground for building a solid process.
Step 3: List out your expectations & objectives of RPA
An organization needs to be clear about where RPA fits in the bigger scheme of things. It is important to spend a good amount of time in defining the processes which can be automated. Also, it is important to be clear about the objectives of automating that particular process. This step helps an SME have a clear and goal-oriented perspective on RPA implementation. Because, when you go out there to find a good RPA development service provider, you can easily compare your requirements with what they are offering.
Step 4: Create a path backwards – from RPA goals to actions
'Which actions will take me from where I am now, to where I want to be?' The reasoning that starts from feasibility study – indicating expectations from and objectives of RPA, leads to the set of goals. But from there, the management needs to crawl backwards to the current situation. This way, one can understand the exact sequence in which steps needs to be taken. This will give an in-depth understanding of the timeline, the actions and the budget as well. And for an SME, these three aspects are the most crucial ones. An experienced RPA development service provider will help you here.
Step 5: Start the RPA implementation process for SME
For SME companies, it is fairly easy to implement RPA system as they have less complexities compared to the MNCs. However, as per prevailing markets, people and global economic conditions, every SME needs to create its own implementation processes. An SME needs to choose a reliable and experienced RPA system provider, who can give you regular maintenance and timely updates. RPA Implementation is about creating software robots, precisely as per the automation requirements. In the beginning, it is wise to assign both the configuration test and the implementation procedure to the vendor. Later on, you can always scale is as per your own assessment.
"Small businesses, in particular, can make use of the technology to resolve many stubborn business processes and whole business models." Professor Stephen Andriole said this at Villanova School of Business, adding "Robotic Process Automation is what you make of it."
These five steps are very crucial and any small & mid-sized organization should consider them while implementing RPA in their organization. Once implemented, the SMEs need smart workforce, standardised processes, effective data management, and regular maintenance of RPA. Only then, the RPA can give them amazing results with regards to productivity and scalability.
The SMEs who are sitting on the fence – needs to realize - RPA is the future, there is no doubt about that!! This is the only way to compete with the industry giants!