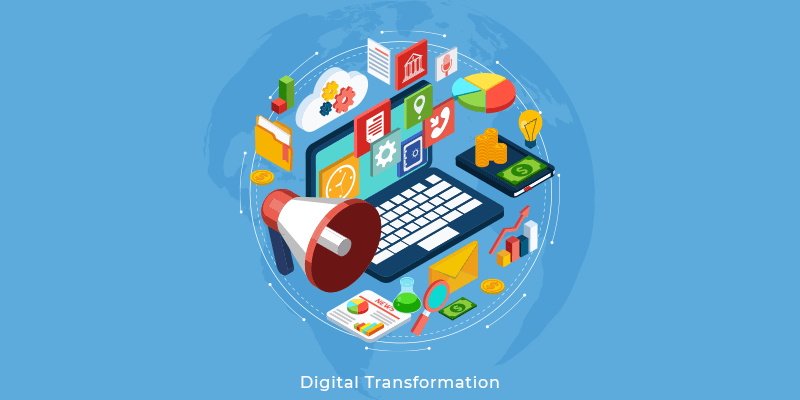 With our dynamically changing world, the organizations need to evolve according to the changing business landscapes and customer preferences. The customers themselves have evolved so much in the recent years due to technological advancements; both, customers and producers prefer rapid transformation. The 'new customers' are tech-savvy and want everything to be efficient and as quick as it can be. This is why, 59 percent of small and midsize retailers believe that digital transformation is important or critically important to the survival of their company.
This is the era of speed! You are experiencing the Digital Transformation, right now!
Some of the major steps taken by business communities to keep up with the needs, includes the Digital Transformation. On the grounds of the increasing speed of business disruptions, reforms, improved capabilities, people-friendly development models; this transformation can be termed as Latest Industrial Revolution. Or in layman's term, it is the era when addressing customers' pain points and deploying technology to sort them out; is a must.
Digital transformation has brought about business revolution!
1. Artificial Intelligence:
In this fast pace world, the AI is replacing humans in almost all the fields; whether it's the customer care services or assembly lines. These days, the machine learning, automation and AI based learning has been so profound that many sectors are shifting to the Google Duplex services. Though it's just a small segment who are switching but sooner or later, we can imagine a future in which AI will do the work.
2. Customer Experience:
The customer experience becomes better if the smallest of the errors is spotted in the product. Compared to the humans, the bots are very precise with the quality. This is the reason that many organizations are shifting to automation for quality control, to deliver the best customer experience. Also, humans are directly affected by the emotional and environmental factors which don't affect the machines much.
3. Product Digitization:
The transformation is not just about technology, it is also about how these technological innovations are adopted and used bringing value to the people and the organization. For example, the products sold in shopping malls or the supermarkets, are given the RFID tags so that the final billing experience can be smooth, subtle and fast. More than 125,000 enterprises are expecting revenue from digital initiatives to increase by 80% in the near future. This underlines the tech-trend that is growing really fast.
4. Process Optimization:
Making it quick and accurate - any process that is being carried out by human! Since the human work is highly affected by fatigue, trials and errors, when it comes to the machine work, the highest level of process optimization can be achieved with automation. To fulfil the needs of a huge no. of population, organizations have already taken up big steps to optimize their processes through digital transformation.
5. Employee Engagement:
But nobody should think that digital transformation will lead to unemployment. In fact, it is the technology that will take any business to the new level, to a bigger scale. And it will also make an employee's work easy and smart. Now the businesses can expand their presence and win over the international markets, with the same team of employees.
Digital transformation has always been important but in this era, it is urgent!
Surveys show that most of the organizations believe digital transformation gives better customer experience, increased revenue and lesser liabilities. According to Forrester Research, 68% of the global business leaders have listed digital transformation as a top priority for their business.
Right now, digital business transformation is the ultimate challenge for management. 86% of organizations believe they must implement digital business transformation to stay competitive and relevant. It directly affects not just the brand positioning but also every level of the of organization and the extended supply chain.
You have a vision we
have a way to get you there
enquire now
For every problem, there is a solution: Digital Transformation
For example, one of the leading organisations from Ahmedabad [India], providing 360° turnkey event management solutions, needed ' Digital Transformation' to manage their inventory, event booking, vendor management, quotation/invoice generation and overall management functions. IConflux created a comprehensive CRM system that was designed and customized to include each and every aspect of the organisation. CRM helped cut down their turnaround time, manpower requirements and it ultimately boosted their profit and brand value too.
Being a business leader, if you are pro-competition and pro-innovation, make sure that you utilize today's technology to unlock amazing productivity and exceptional customer experience. Contact IConflux to give your organization, the digital transformation.
At Iconflux, we offer business enterprise solution for all types of businesses. Simply, drop us a line at [email protected] or call us on +91 95127 87877.