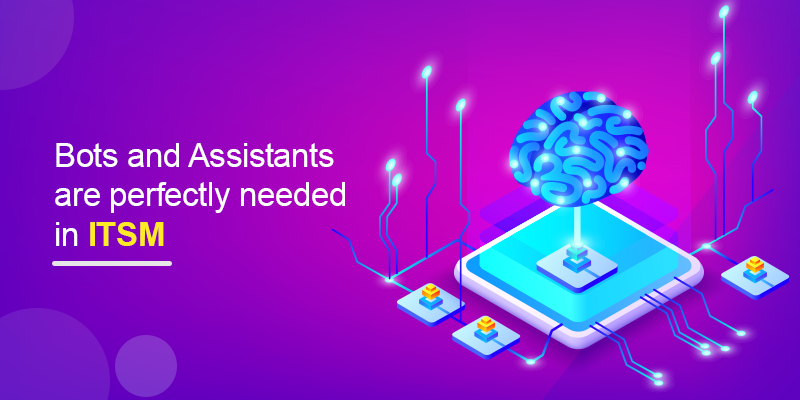 Bots and Assistants are perfectly needed in ITSM
Technology has changed the way employees work and the way companies do their business today. With the help of IT, now offices run faster, smoother and easier. IT has made inroads into each and every part of the business, be it Asset Management, HR Management, Business Development or Operations Management. So, when your workplace is dependent on IT to such an extent, IT Service Management (ITSM) becomes one of the most important area. With a proper ITSM, you can ensure that your workplace is functioning at its optimum productivity levels.
And when ITSM is empowered by Artificial Intelligence, through Chatbots or Virtual Assistants, any organization can achieve those levels.
Benefits of Bots and Assistants in ITSM:
1. Faster Service Request/ Reporting
Whenever your team encounters a system issue – be it a hardware, software or connectivity issue, they can report it to the concerned department through a service request. It could be reporting an incident such as software malfunction or Wi-Fi connectivity, or it could be a service request; ITSM becomes the platform where they can do it. When your ITSM is equipped with Chatbots or Virtual Assistant, it becomes so much easier for the team to register a detailed service request, and get it resolved quickly.
2. AI Based Automatic Processing
The request raised by your team, now needs to be resolved by IT department. However, it has become difficult to give a prompt response to all the requests in recent times. Your IT department can't be everywhere at the same time, right? But you can use a Chatbot or an Assistant to communicate with the team and analyse the issue, without human intervention. Based on the existing patterns, the AI can analyse the issue & available data, and suggest steps to manage them. The number of calls and duration of the calls gets cut by 40% with the Chatbots and Assistants.
3. Effective Use of Knowledge Database
Another biggest advantage of AI is the knowledge and ability of the AI to utilize this knowledge and authentic data to create a solution. Utilizing the past trends of issues and their solutions, A Chatbot or an Assistant can give the team tips and tricks to tackle the issue. As per the HDI report, 15% of the support organizations saw decrease in ticket volume compared to last year. Proper implementation of AI can help an organization reduce the ticket raises by 65%. At the same time, the AI will learn the pattern of IT issues within the organization and even proactively suggest preventive steps or training to the management. So, this knowledge database can actually boost the ITSM to a great extent.
4. Improved Service Team Efficiency
The Chatbot and Assistants can take care of small and repetitive issues themselves, rendering your team available for the other complex issues. With the AI, you can give the team option for self service and step by step instructions for the resolution. In fact, IT Service Management becomes really faster compared to manual resolution by the service team and ITSM can be effectively managed by a smaller team. The Gartner Report says, just by implementing chatbots for ITSM, organizations can improve the response time by 35%. So, Chatbot and Assistants actually helps an organization save time and money both.
Take your ITSM to the next level with IConflux
IConflux is an organization which believes in staying true to the changing times. 'The Future of ITSM – Survey Results 2019' report says '9% of respondents are already using chatbots and another 29% are already experimenting with them'. Artificial Intelligence is the need-of-the-hour, nobody can deny that. And if your IT Service Management is equipped with Chatbots and Assistants, your workplace and operations can go on at the optimum pace. For example, we recently created an Artificial Intelligence based Asset Management System for one of our clients; and we were amazed to see how much it helped the organization in resolving the IT service issues remotely and faster. This is the power of AI – Chatbots and Virtual Assistants.
If you think your ITSM needs to utilize AI technology and give your employees a seamless experience, contact IConflux on info@iconflux.com or just click here.
Tagged in