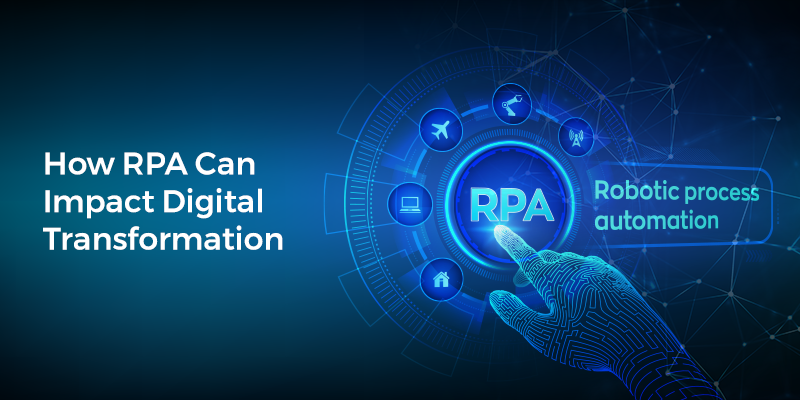 How RPA Can Impact Digital Transformation
People think, talk and implement Digital Transformation every day across the globe. Irrespective of industry, you're working in you'll find different ways to transform the way organizations work. Every organization wants to keep up its game-high to beat its competition. The organization either wants to streamline its operations, want to implement a new digital tool or looking for ways to automate existing operations. There are many tools and technologies available which can help the organization to win in digital transformation competition. However, RPA - Robotic Proces Automation has come out as one of the most popular and useful technology to drive digital transformation in the organization.
The digital industry is growing at a rapid speed. Experts say that the digital market will be worth around $4.3 billion by 2022. Leading companies those who provide RPA tools like Automation Anywhere, Blue Prism and UiPath have its valuation in the billions. Recently, SAP also announces that they are planning to develop their own RPA capabilities which can be embedded into their existing systems and product lineup.
Deloitte conducted interesting research on RPA and found that 53% of organizations have already started accepting and implementing RPA tools. Experts predict that demand for RPA will increase by approximately 72% in the upcoming years. In spite of having this much acceptance, the study shows that many of the organization is not able to scale up their RPA game. Few of them only having limited bots, proof of concepts or running pilot projects on RPA. Most of the organizations are still not clear with the true potential of RPA and due that magic is missing.
1. Digitalise Process
Basically RPA digitalizes the processes across the organization, which in turn helps into digital transformation. The organization can strategize and re-align business processes that can optimize the process flow, reduce human efforts and provide better customer experience.
2. Improve Efficiency
Organisation which can not directly replace legacy system adopts RPA to automate their various process. It leads to 100% accuracy and dramatically reduces man-hours required for those processes. RPA is also capable of performing dynamic workflows and transaction which improves efficiency and benefits to the organization.
More prominently if we say RPA doesn't only drive the digitization and improve efficiency. However, if planned strategically it becomes a key aspect of your digital transformation journey. Digital transformation is not only a trend it is an essential driver that brings the fundamental transformation to an organization. Organizations achieve digitizing and integrating business processing using RPA. Streamlining and digitalizing these business processes on various departments, tools, systems, and legacy systems is a transformation in the true sense.
Moreover, RPA can be set up quickly as it does not require coding and complex integration. It also doesn't impact the core business logic of the organization. It's not mean RPA is easy but yes to run a test project and create a proof of concept is not a big thing.
Conclusion : RPA technology has great potential and its improving day by day. The amount of efficiency, compatibility, and adaptability offered by RPA is not only limited to basic automation but also it can digitize dynamic workflows and crucial transaction in the organization which in turn contribute toward digital transformation.
To discuss in detail the potential and relevant use case of RPA schedule a quick call or meeting with our expert Digital Transformation Consultant. Share your problem statement with us over email info@iconflux.com and we will get connect with you.
Tagged in