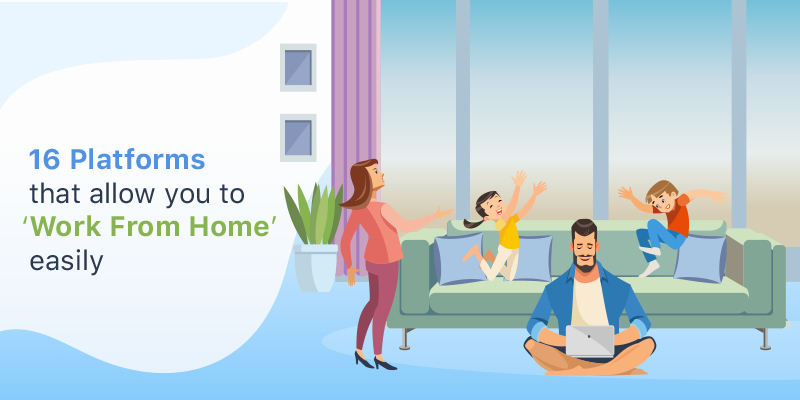 Who is not talking about CORONA and COVID – 19 today? The entire world is worried about the virus outbreak and the bad impact it is bringing to people's health and the economy too. A report by OECD predicts that the global economy might grow a little slower in 2020. From its earlier estimate of 2.9%, OECD has reduced the growth rate to 2.5%. But this is just an initial estimate. As the need for Social Distancing increases in the world, the manufacturing and service sectors both are likely to face the doom.
Well, we would have been helpless in such a situation, if it happened 20-30 years back. But today we have the power of technology. Today we have very advanced IT infrastructure in many countries that we can leverage and keep the economy going ahead. Albeit a little slower but that is the only hope. This technology has given rise to the 'Work From Home' culture and the COVID – 19 is going to be the biggest test for these platforms. So, let's check them out, one by one!
Here we are categorizing these WFH Platforms as per their role in the functioning of a company.
Major 'Work From Home' platforms to look out for in 2020:
Platforms for Communication:
One of the most important aspect of an organization is the communication – both internal and external communication. These platforms allow your teams to maintain coordination within the organization and also connect with clients, vendors, and associates.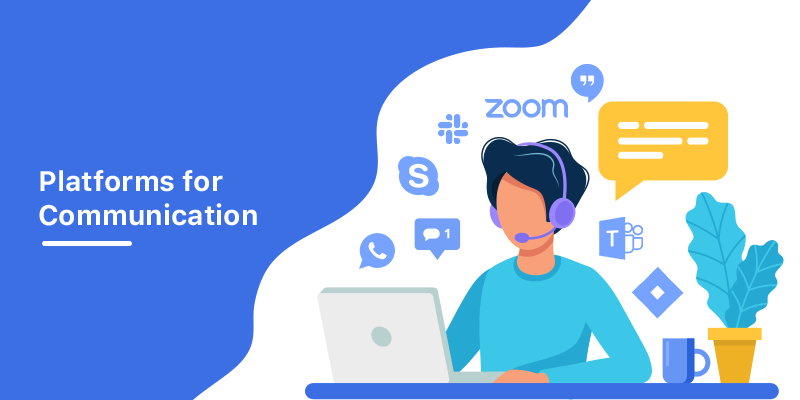 Skype: This is probably the most famous and widely used communication in the world. Anybody can install skype in their mobile as well as the computer and start using its audio/ video calling, chatrooms, and many other functionalities.
Slack: Slack offers a comprehensive communication platform with chatrooms, private groups, and DM services. Also, it allows you to manage multiple conversations and even prioritize them as per your needs.
Zoom: Zoom allows you to organize online meetings with audio and video support, workshops, webinars, conferences, etc. with a great ease. It also offers cross-platform messaging support and file sharing facilities.
Whatsapp: Of course, Whatsapp is one of the most accessible platforms which is revered by millions of people across the world. It allows video calling, group chats, file sharing, and so many other functionalities that one needs in an organization.
Hangout: This is a great solution created by Google itself. A part of Google Suite Apps, Hangout predominantly offer chat support to the teams along with the facility to share files and manage conversation over multiple channels.
Microsoft Teams: This is one of the revolutionary platforms which will redefine the workplace. It offers file storage & collaboration facilities, app integrations, chatrooms, and video conference features which one can use on android, iOS and windows.
Chorus Call: It is basically a teleconferencing platform that allows you to do audio & video conferencing, share computer space, do webcasting and also manage the project from anywhere in the world.
Platforms for Project Management:
So many organizations from all over the world, are already using these platforms for project management as when the team becomes bigger than a limit, it is almost impossible streamline the project related tasks. There are many platforms that allows the same.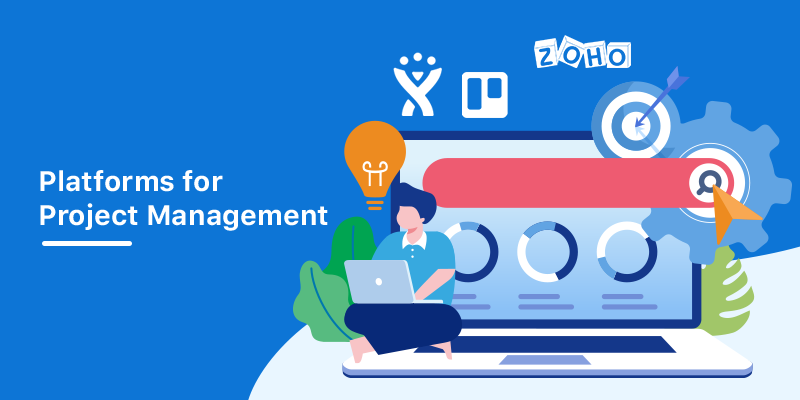 Jira: It is a service desk on which the teams can manage the tasks and requests form their clients. It brings all the current and future tasks on one platform and allows the management to set them as per their priority.
Trello: It is an ideal task board for managers to align tasks as per the priority and monitor their progress. This way, it allows streamlining the tasks by updating their status, managing conversations, and file-sharing capabilities.
Zoho: It is one of the most popular end-to-end business management tools which brings together so many important applications such as CRM, HRMS, Workplace, Finance Module and facilitates seamless remote working.
Platforms for IT Development:
This is the era of technology and technology required coding and development. From creating a new IT product to integrating it with the servers and maintaining it from time to time, requires constant development support. But that can be done remotely!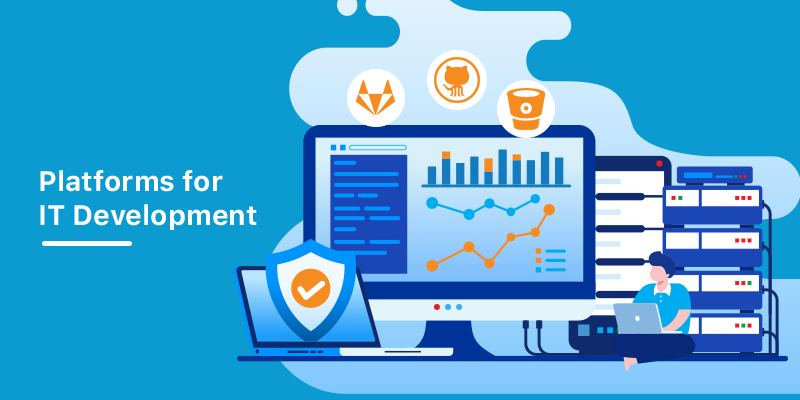 GitLab: Basically, GitLab can be called a coding assistant for large teams of developers. This is the platform where many developers can come together and execute all the DevOps, with striking uniformity in the codes, over a long time.
GitHub: GitHub is a repository which allows the users to host a project, invite collaboration and share the project with the clients online. GitHub also allows you to track the issues, manage documentation and do overall project management with ease.
BitBucket: This is also a promising platform for IT Development projects. BitBucket offers features such as Branch Permissions, Code Review, Jira/ Trello Integration, Deployment Permissions, IDE Integrations, and everything that's needed to plan, code, test, and deploy.
Platforms for Marketing:
Many of the tasks can be managed through alternate routes but Marketing is one task that cannot be managed randomly. It requires constant monitoring and improvisation along with intellectual support of so many different people.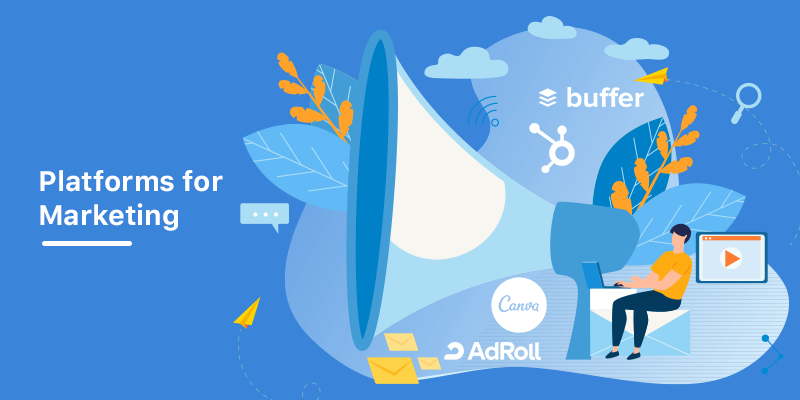 Canva: Visual representation is the key to a positive image on the people's minds. Canva is a graphic design platform that allows designers to create graphics for web and apps, social media, ads, presentations, logos, infographics and illustrations.
Hubspot: It is an integrated platform that allows you to combine all the important marketing tasks such as lead generation, content marketing, CRM, social media, SEO, website optimization, customer support, etc. on one place.
AdRoll: it is a digital marketing and growth marketing platform that offers unique support such as AI-based predictions, data analytics, cross-channel support, and allows you to do data-driven marketing to get perfect results.
Buffer: It is basically a social media management platform that allows you to build an audience and communicate with them effectively. With Buffer, you can manage your content wisely and allow your team to strategize it well in advance.
Many of the big organizations already use these platforms on a regular basis. But the prevailing COVID – 19 situations have forced all the organizations to find an alternative to office gatherings. These platforms can be of great help for organizations in sustaining and surviving in this difficult economic phase. IConflux is one of the leading IT Solutions provider company from India. We have our own classic Work From Home Platforms that you use and run your business efficiently. Get in touch for more information on [email protected].