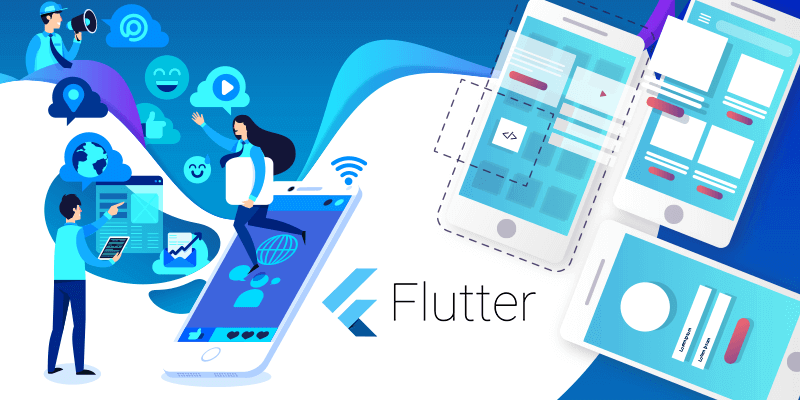 People are obsessed with apps in their routine life. For communication, management, fitness, entertainment, education; mobile applications have become a necessity of life. And needless-to-say, they also help us manage our business activities, very efficiently. But most importantly, Flutter is a boon for Start-ups because, it gives you a chance to create cross-platform app, faster and in a more cost-effective manner.
What is so special about Flutter?
Flutter is the latest cross-platform mobile software package development kit (SDK) by Google; and it is certainly one of the best SDK for developing android apps and iOS applications from a single code base. What Flutter does here is, it empowers the developers, to deliver superior apps that feels awesome on all the different platforms. Now that Flutter technology is trending, developers and all the organizations, everyone is adopting this technology.In the first 8 months of 2018, Flutter managed to surpass all the other existing platforms. (see the chart)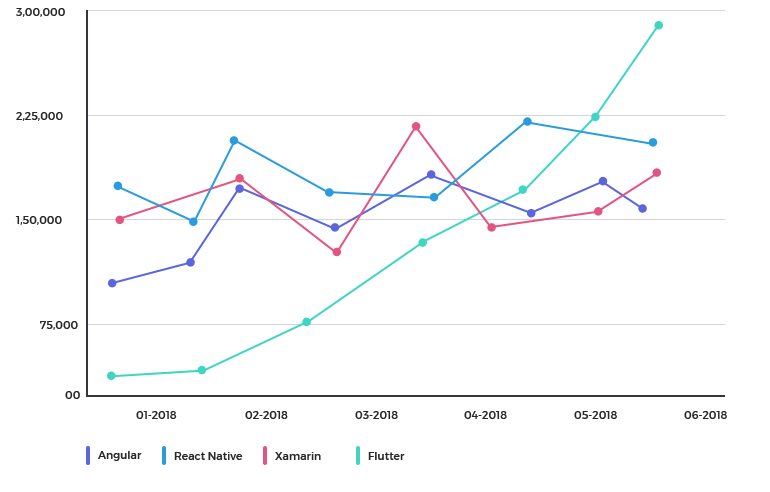 So, if you think you have a terrific idea for an app, which can revolutionize the way people live! Bring it on, IConflux, offers you the best offshore software development services with top-most quality and cost-effectiveness.
Getting Started:
You can easily get a Flutter app developed, all you need to do is 'follow these 5 crucial steps'.
1. Identify your business needs for app development
Each start-up requires different resources and approach, the same way all the apps require different layout and functioning, according to the specific business needs. You need to have a clear picture in your mind about how the app will look and what all tasks it would accomplish. The developers can create an app that you want, as long as you are clear about 'what do you want'. So, list out your ideas about the app and think about how it will span out offline. Also, having a technical architect along, can be of a great help as they can tell you exactly what is possible and how it can be done. IConflux can help you with that!
2. CompareFlutter with other platforms
The research plays a very important role in app design and app development. So, you should always compare what one platform offers and what can the other platform offer. Yes, Flutter is trending, but you should not choose Flutter just because of that, you should choose it if it's best for your Start-up app. So, always check PROs and CONs of every platform before choosing one.
Benefits of Flutter for developers:
3. Choose a proper development team
Now if you are sure with what are your requirements and which technology you need for your start-up app; it's time to find the people who can do that for you. Outsourcing Flutter app development is a better choice because it gives you an additional advantage of the cost-factor. And you can always ask for more details about the developers and their skills & achievements. So, after your research, if you think you need Flutter for your start-up app, IConflux has the best team of Flutter developers who can provide you the best Flutter app development services in India.
4. Convert your idea into reality
The first thing that's needed is good communication, to convert your vision, your idea into an application. With that, everything becomes quite easy and speedy.Also, in app-development, the process needs to be improvised and customized according to the needs.
As Flutter is Google's development kit,it allows you to create mobile apps, with support for cameras, geolocation, network, storage, and more. If you wish to create spectacular branded lifestyle or stock platform apps, then a cross-platform framework like Flutter is well-suited.
You have a vision we
have a way to get you there
Enquire Now
5. Dazzle the user with the Flutter experience on your app
Google's AdWords app, that assists advertisers and keeps track of ad buys, is created using Flutter. Even China's Alibaba app has been designed with the toolkit. But also, after creating the app and launching, you'll need to manage it and update it from time to time. With IConflux, you can keep the front-end of the app attractive and user-friendly; so that your customers can always love the experience and feel of using your app.
Now-a-days, happiness is just an app away. So, you never know, you might just be a step away from becoming a market leader. All you have to do is get your start-up idea ready, get an app-development partner, and build an amazing app.IConflux offers you the best quality cross-platform app development services. Send email to us on [email protected].