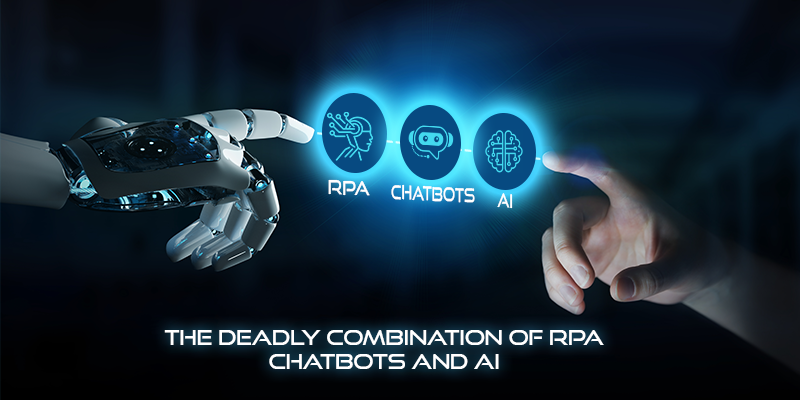 The deadly combination of RPA, Chatbots, and AI
One of the greatest movies of all times "2001: A Space Odyssey", they show a conflict between Artificial Intelligence and humans. The curious thing about this movie is – this movie was released in 1968! This is the most popular perception of Artificial Intelligence in the world. But we have come a long way since then. Today's AI are here already and they are working well. A lot of people do not understand that they use products or services which use RPA, Chatbot and Artificial Intelligence on a regular basis. All the three together can turn the tables and can be a game changer. And this is the reason why now people are thinking about combining these three concepts together to solve complex problems.

Let's go through RPA, Chatbot and Artificial Intelligence, one by one.
The deadly combination of RPA, Chatbots and AI
Together these three can accomplish a new automation revolution in the world. With the help of AI, RPA and Chatbots, businesses can expand their capacity beyond imagination. These are the technologies that will be intertwined with our lives in the future.
Equipped by the Artificial Intelligence, a chatbot can interact with the user and manage a conversation. If an employee is seeking a specific access, he/ she can get it resolved through a conversation with a chatbot and if the employee needs assistance of tech support, the chatbot can connect with the RPA system and allot a task. On the other hand, an RPA system that is equipped with an AI, will analyse and resolve the issue through automation. What's more? Think about the integration of these systems with Internet of Things (IoT) and Machine Learning or facial and speech recognition! The possibilities are endless. Which is why, this combination of RPA, Chatbots and AI is a truly deadly combination, the oasis of a revolution.
IConflux is one of the fastest growing IT development services providers with a well-decorated clientele. IConflux offers you Bots and Assistants development services, at very reasonable cost. Tell us what is on your mind over info@iconflux.com. or just click here. Let's open up the world of AI.
Tagged in