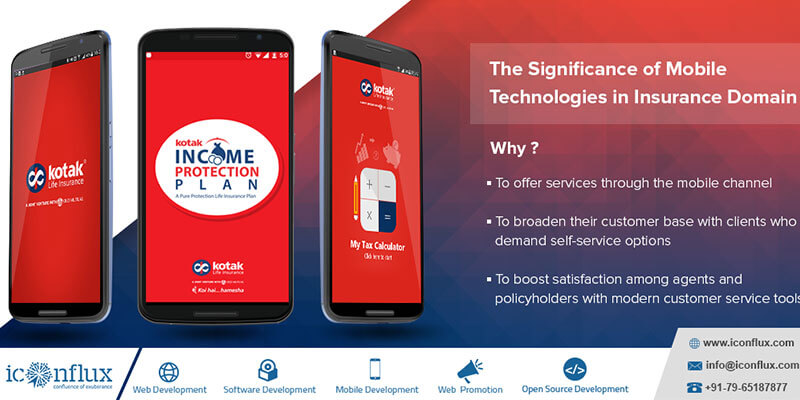 The significance of mobile technologies in insurance domain is vastly neglected. As more people and consumers interact via mobile devices, underwriters can heavy weight their customer base and inventory by amalgamating mobile technologies to their marketing strategy for their products. Sluggishly but insurers who builds strong mobile platform tactics to cater customer demands have started gaining upper hands to their arch rivals. To name a few applications Kotak my goal, Kotak Investment Protection plan.
There are plenty reasons for insurers to turn towards mobile technologies. Few key points are augmented here:
To offer services through the mobile channel
To broaden their customer base with clients who demand self-service options
Increase accessibility of plans and schemes
To boost satisfaction among agents and policyholders with modern customer service tools
The problem is not that insurers are avoiding mobile technology. In fact, carriers have begun to offer a variety of mobile tools for their agents, brokers, and consumers. Despite their efforts, however, the usage of those tools has been sleepy headed.
To some, this may not be a huge bombshell. Given the limited interaction that insurers have with their patrons, businesses will have to make an extra effort and think outside the box to inspire downloads among their target audience members.
In the current business environment, acquiring and retaining customers demand engagement and ongoing dialogue has been observed. To build mobile applications some measurement must kept in the primary agendas to cover. Such as, let customer connect with the brand, improve two-way communication and strengthen long-term relationships.
It's important to consider how customers are using their mobile devices, and which features are used most on a regular basis. By measuring most downloaded apps and time spent on each one, insurers can better determine how to attract customers to use their mobile offerings.
As they look to reshape their mobile strategies to lure a loyal user base, we recommends that insurers develop a better understanding of their target audience and which features will contribute to a strong user experience.
The apps listed in this roundup venture outside insurers' traditional offerings to help customers in other aspects of their daily life. By providing a tool that can be used on a regular basis, carriers can secure customer interaction on a regular basis — not just when a claim is submitted.
You have a vision we
have a way to get you there
Enquire Now
Besides insurance applications and firm specific plans, insurers should think outside the box and put into service features like users' budget, stay safe on the road, and maintain a kid-friendly home environment. There are like extra toppings on your pizza.
At Iconflux, we offer business enterprise solution for all types of businesses. Simply, drop us a line at [email protected] or call us on +91 95127 87877.