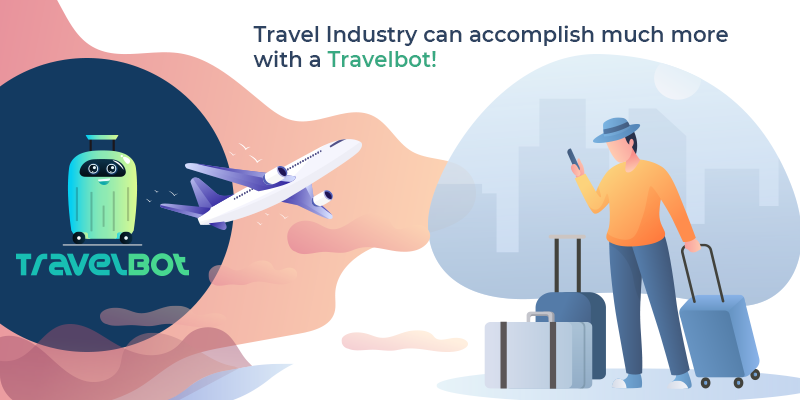 One of the biggest and most important tasks in the travel industry is 'handling customers, and their queries'. Handling all the queries from starting to return home. Too many conversations, and replies to all their queries via different mediums. Conversations with the bus operators, hotel owners, restaurants, authorities, even other travel agencies and especially with the customers. Customers can have a thousand queries and they always demand prompt and accurate responses from the travel industry. This handling all your customer queries defines how trustworthy your business is.
So, you can either let an untrained employee manage to tackle and handle your customers or you can build and deploy a chatbot. A chatbot that can maintain speed, consistency and handle multiple conversations at the same time. Being active in the IT industry for a quite long time, I have seen people getting business of astonishing magnitude, soon after they deployed a chatbot. Something they could never imagine and then they had to speed up their operations in order to match the speed of the chatbot.
A travel bot can manage the customers' inquiries about flight bookings, cancellations, airfares, travel itineraries, package details, specifications, customizations, recommendations and finally the checkout process. What is more fascinating? Now you can easily integrate a chatbot with all the major platforms. Which means you might not realize it but the chatbot will be handling customer 24 X 7 X 365. I strongly believe that the travel industry needs to move on from manual customer service and leverage the latest technology to the fullest. IConflux can help you build a travel bot and deploy it across all major platforms.
IConflux is one of the leading IT Solutions Provider company that offers enterprise-grade IT services, CRM solutions, ITSM solutions, expert Chatbot development solutions at a very cost-effective price. With more than 9 years of experience in providing IT solutions to the world, IConflux has made a name for itself among the IT Solution Companies in India. You can contact IConflux anytime on [email protected]. or you can just contact us on our website here.