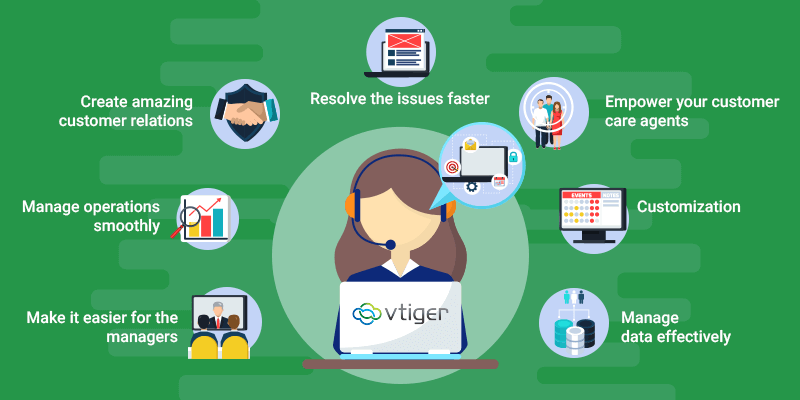 Today with all the satellites, internet, and social media, we live in a world that has so many possibilities. Have you ever imagined how people would have managed sales, marketing, and customer care, a hundred years back? Humanity has come a long way since.
Today we can target our potential customers very precisely and give them a seamless experience, through CRM System.
Vtiger CRM – The best CRM for Sales, Marketing and Customer Support
The best quality of Vtiger CRM is, it encompasses all types of connections that exist between the businesses and their customers; and Vtiger offers amazing customer experience and employee experience, at the same time. Ranging from Corporate Giants to Start-ups, more than 300,000 business are using Vtiger, that explains itself.
A sales representative can easily track customers journey from lead, an opportunity to a loyal customer.
Maintaining and scheduling daily follow-ups, email and customer information.
Integration with most of the marketing platforms like Google Analytics, MailChimp, Quickbooks, Dropbox and much more.
Let your customers find answers to common queries and raise a complaint
Notify the customers about the status of their outstanding issues
Allow your teams to manage contacts and add comments to existing cases
Let your executives raise new issues and assign them to suitable teams
Close the resolved cases and centralize the data management
Today, technology allows you to do so much more than what traditional ways for sales, marketing, and customer support could ever offer!
Advantages of Vtiger CRM for Customer Support over traditional methods:
Resolve the issues faster

The first thing you need a seamless platform to communicate with the customer. You can give the customer so many channels for engagement, to choose from. With Vtiger, your customer can raise the issue and get it resolved even easier with automation. Your team can work in a very customer-focused approach for providing customer care services.

Empower your customer care agents

Vtiger gives your team relief from the tedious task of data entry. It makes the task of your customer support teams easier and boosts their productivity. With Vtiger CRM, your customer support becomes more effective as your team can access information & data and can coordinate with other teams for a faster resolution.

Make it easier for the managers

When your team can effectively manage customer care without any hassles, the team leaders can effectively focus on the issues that need attention. With such a coherent system in place, the managers can limit the customer escalations and guide them to a proper resolution. Vtiger offers you that ease of managing customer support.

Manage operations smoothly

Every customer support requirement needs proper documentation. Vtiger CRM offers you the freedom to define an ideal customer support case flow and reduce the resolution time. To get the ideal customer experience, you must have all your team well organized, faster and in-sync. With Vtiger CRM, you can create a great impact on your customers' minds.

Manage data effectively

Data is everywhere, at each and every step of the interaction with your customers. But that data is scattered and you need to manage them, analyze them and use it to boost your prospects. This is where Vtiger CRM can be of great help. You can give the customer a better experience if you can understand their needs and preferences better.

Create amazing customer relations

Customer Support is not merely a smile on your face! These days, customer experience plays a major role in attracting customers and retaining them. And Vtiger CRM offers you a brilliant chance to build a long-lasting association with your customers, through great customer experience.

Customization

Vtiger CRM is an open source and provides great flexibility for customization. It can be customized depending upon your business requirement and process. Also, Vtiger CRM is suitable for multiple domains like Forex, Real Estate, Hospitality, Event Management, IT, BFSI and much more.
Upgrade your business with Vtiger CRM Customization!

You have a vision we
have a way to get you there
Enquire Now
IConflux offers the best Vtiger CRM integration and customization services. Till now IConflux has implemented more than 50 Vtiger CRM. Cloud Forex CRMone of a successful product developed using Vtiger CRM. Cloud Forex CRM provides supports to more than 100 thousand forex brokers across the globe. So, forget the traditional customer support experience, join the Vtiger CRM Customization Revolution!
If you think you need robust customer support, sales and marketing system then contact IConflux on [email protected]. and schedule a demo now…!!!